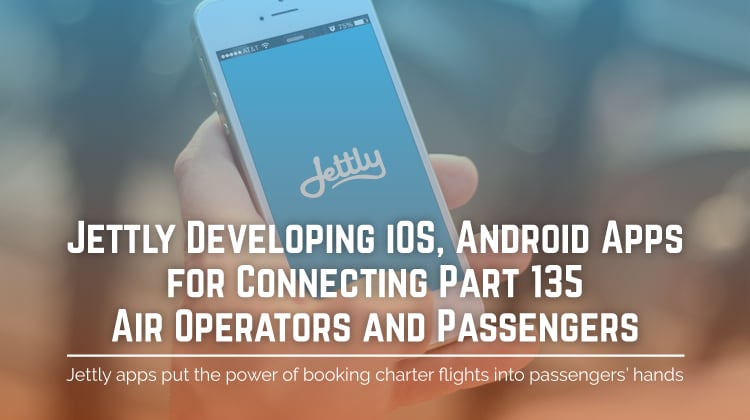 FOR IMMEDIATE RELEASE
Jettly apps put the power of booking charter flights into passengers' hands
JANUARY 8, 2017 – Jettly is thrilled to announce that their team is currently developing apps for both iOS and Android. These apps will make it simple for passengers to book flights anytime and anywhere.
For prospective passengers seeking charter flights with Part 135 air operators, the Jettly platform makes it simple. Jettly works by connecting private pilots with potential passengers, letting pilots post their open flights while passengers search for the flight they want.
The development of the iOS and Android apps is the next phase of the Jettly launch and will put the power of booking charter flights into passengers' hands.
Jettly was inspired by the Uber ride-sharing platform, which serves more than 1 million customers per month. With Jettly, passengers get the Uber of the air, and the iOS and Android apps will make it easy for passengers to reserve their flights from their smartphones and tablets.
Jettly is proud to collaborate with Part 135 certified air operators to offer them a streamlined dashboard and advertising platform where passengers can easily search for and reserve their ideal flights. The platform also offers a unique way for pilots to share their enthusiasm and passion for flying with passengers who are looking for a unique flying experience.
While booking a charter flight was once a more complicated ordeal, Jettly makes it simple for passengers to look for flights when it's convenient for them, and it gives Part 135 air operators a unique and easy to use platform for connecting with those prospective passengers.
Jettly is excited to announce the development of their new apps and looks forward to releasing their launch dates soon. Further details can be found at https://jettly.com/.
About Jettly
Jettly is a flight-sharing platform connecting pilots and passengers to seamlessly book empty seats on flights.
Contact
Justin Crabbe, Chief Executive Officer
Jettly
Phone: 866-448-2358
E-mail: [email protected]
Website: www.Jettly.com
###