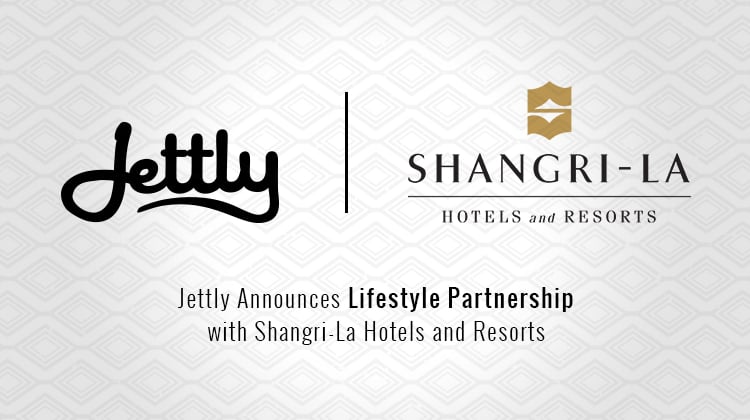 Jettly members now enjoy an enhanced travel experience and preferential room rates at Shangri-La Hotels and Resorts worldwide
FOR IMMEDIATE RELEASE
(Ontario, Canada) –  A prominent leader in private air charter services Jettly adds Shangri-La Hotels and Resorts as a new lifestyle partner to provide Jettly members with a complete luxury travel experience. With this new lifestyle partnership, Jettly members enjoy preferential room rates at any properties of Shangri-La, Kerry, Hotel Jen and Traders hotels worldwide.
"Our collaboration with Shangri-La Hotels and Resorts allows us to offer our members preferential rates in some of the world's premier luxury hotels and resorts," said Jettly CEO Justin Crabbe. "The Shangri-La Hotel Group shares our vision of utmost comfort and outstanding service to its customers. By offering reasonable rates for private air travel and luxury hotel accommodations, we hope to create world-class travel experiences that are accessible to more people than ever before."
To access preferred rates for Jettly members, make your reservations on the Shangri-La website or mobile application. Under the Select Code Type box in the corporate or special rates section, select "Promotion" and enter the exclusive Jettly Promotion Code: CP_BTP_JETTLY4495-17. A valid Jettly membership is required at check-in.
"At Jettly, we believe that travel should be luxurious and stress-free every step of the way," explained Crabbe. "We are confident that our air charter services are easy, efficient and pleasant. Now, the company can guarantee an incredible experience on the ground as well with Shangri-La's five-star accommodations throughout Asia Pacific, North America, the Middle East and Europe."
ABOUT JETTLY
Jettly, the world's fastest-growing private jet and lifestyle community, makes private air travel faster, easier and more affordable for its members. With nearly 10,000 private jets and over 1,500 operators in its marketplace, Jettly is revolutionizing the way people fly one booking at a time.