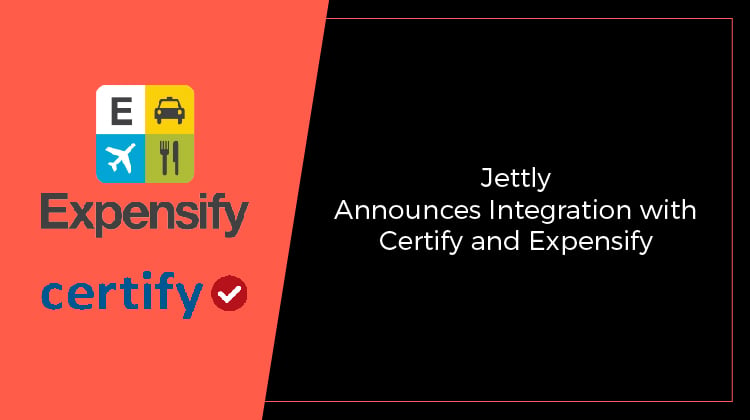 Jettly.com has recently integrated with Certify and Expensify to allow users to push their Jettly bookings and travel expenses inside of these corporate expense tracking platforms
FOR IMMEDIATE RELEASE
(Ontario, Canada) Jettly has taken another step toward making the entire travel booking process easier by announcing integrations with Certify and Expensify. With these new integrations in place, users can push their Jettly bookings and travel expenses directly inside the platform.
"Our new integration can help our users save quite a bit of a headache when creating expense reports for business trips," stated Jettly CEO Justin Crabbe. "Expensify and Certify allow users to create expense reports for business trips while they are booking their flights, hotels and rental vehicles. The entire process is automated, making it simple for even those who don't consider themselves tech-savvy."
This is an exciting new trend. The convergence between business travel and expense reporting and corporate bookings is now clear and hassle free. In the past, corporate booking was something that happened before a business trip and expense reporting occurred after. Now everything is overlapping in the middle and Jettly's new integration with Certify and Expensify make the entire process hassle-free.
"Our goal at Jettly has always been to make traveling as pleasant and stress-free as possible," continued Crabbe. "We have worked hard to ensure our search tools were easy and fun to use and provide some of the most competitive options available today. With access to over 9,500 aircraft and 1,500 operators in the network, there is no question that Jettly is the undisputed champion making changes in the way people fly around the world. With this new integration, the entire process of business travel is easier."
Additional information about this new integration and how it is helping to revolutionize the travel industry can be found on the Jettly website. This announcement by Jettly illustrates the ongoing dedication to customer satisfaction the company has by continuing to offer superior features to the travel booking process.
ABOUT JETTLY
Jettly is a private jet charter company that believes travel should be luxurious, quick and simple for everyone. Regardless of if a person is traveling for business or pleasure, they will find the search tools available by Jettly are superior to other options available online. The company is considered to be a leader in the travel and private jet charter industry and with just the touch of a button, travel customers can find mobile and web charter booking, as well as end-to-end support during the entire process. Customers can find travel accommodations that meet their needs, regardless of how much time they have to plan.
Media Contact
Justin Crabbe
Ontario, Canada L4C9Y7
[email protected]
1-866-448-2358
www.Jettly.com