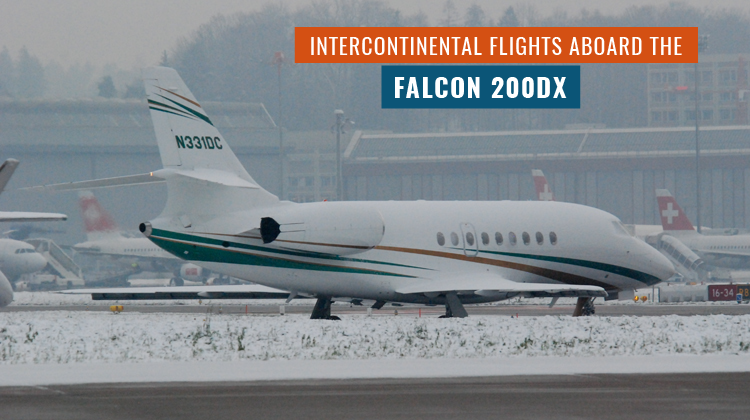 Planning to fly internationally? Perhaps you're taking a grand vacation with friends or attending a major conference with business partners. Either way, it would be awesome to travel in style on board the Falcon 2000DX. This aircraft has a top tier speed which can fly as far as 5,509 kilometers. Its comfortable cabin can seat up to 12 passengers, as it has a sufficient compartment for your luggage and even golf clubs. If you're coming from Ontario, you can reach Dublin, Ireland when you charter a flight for the Falcon 2000DX.
The Falcon 2000DX's cozy cabin allows for comfortable and well-rested flights. This private jet has been customized to fit the traveling needs of its VIP flyers. These include a galley to prepare sumptuous food, passenger seats with more legroom and a bathroom. To gauge the comforting experience you'll have on the Falcon 2000DX, it's best to confirm its in-flight specifications with your charter service.
Photo Credit: Aero Icarus
An Ultra Cozy Riding Experience
Sleek travelers will find the Falcon 2000DX quite comfortable especially if they'll need to fly for over three hours to reach their intended locations. Its interiors' standard design has a pullout table which allows for you to enjoy your refreshments. It can also function as a table for your laptop if you intend to get some work done while thousands of miles above the ground. With its wide cabin, the plane enables you to rest well especially if you have a major presentation coming up, at your intercontinental conference.
Here are just some of the plane's interior specifications, so you may gauge the level of convenience you'll experience while on board:
Can seat up to 12 passengers (including the pilots)
Height of Interior: 1.88 meters
Width of Interior: 2.34 meters
Capacity for Luggage: 134 cubic feet
Maximum Takeoff Weight (MTOW): 41,000 pounds
Far Reaching Distances aboard the Falcon 2000DX
This plane is roughly a part of the mid to long range travel classification. Equipped with two Pratt & Whitney Canada engines, the Falcon 2000DX has a high-power machinery, among other sleek planes within the same category. Its avionics are also updated to meet the latest standards in flight precision. Business jet setters consider this plane as a favorite because of how fast and far it can go. Within just 17 minutes, it can already fly up to 41,000 feet. This just shows how the aircraft can also be your efficient partner when it comes to swift, sky based travels.
These performance specifications are quite telling of the sturdy flying experience which you'll have, when chartering for a Falcon 2000DX:
Speed: 430 knots (kts) or nautical miles per hour (nm)
Stall Speed: 85 kts
Range: 2,975 nautical miles or 5,509 kilometers
Maximum Altitude: 47,000 feet
Background Information
Manufactured by the French company, Dassault Aviation, the Falcon 2000DX was first flown in the early 90s with over 300 units of its variances produced. The 2000DX trijet has the 2000, 2000EX and 2000EX EASy as its predecessors.  While maintaining its fuselage and cabin capacity, the Falcon 2000DX is also considered to have more performance advantage when it comes to speed and range. Plus with its smooth ride, travellers can enjoy the clear skies and beautiful landscapes which the aircraft flies through.
For international destinations, Dassault's Falcon 2000DX is your reliable aircraft to hop on. Be sure to check its facilities with your charter service, so you can make the most of your upcoming flight. Should you be maximizing its distance or range capacity, it's best to confirm your flight's allowable number of passengers.
See our system below and get your live quote now: