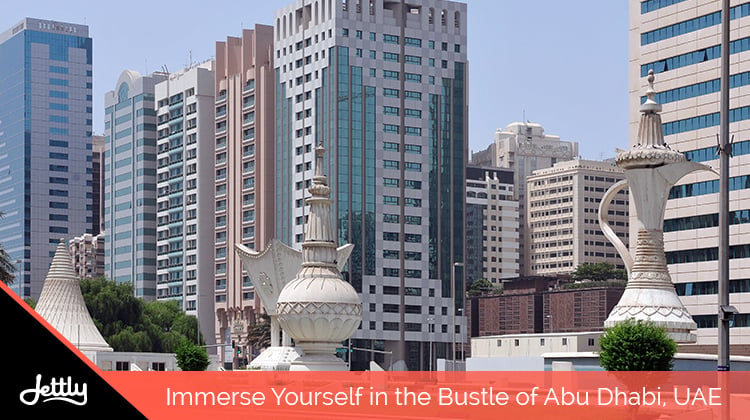 Abu Dhabi is a city that screams luxury. From its tall structures, gridded layout, and sleek streets, the UAE capital rises as a symbol of the cutting-edge modernity, both within the Arab world and outside of it. It's not a wonder, then, that the city serves as a premier destination for visitors all around the globe.
With its many happenings and attractions, thinking about what you'll do next in the city can be a little overwhelming. But it doesn't have to be. Fortunately, we looked into all the great things you can do to make your Abu Dhabi stay worthwhile:
Get the best of Abu Dhabi's food industry
If you're heading to Abu Dhabi this May, chances are you'll be there in time for Ramadan, so in the daytime, it might be hard to find a great place to eat. Come nighttime, however, you might find yourself in the midst of a bustling food scene, where almost every restaurant in the capital serves up iftars, or evening meals after fasting.
That said, with everything Abu Dhabi has to offer you might be wondering where you should head to first. Here are a few places you can look into further:
Coya. Sleek, elegant, and packed with delicious Peruvian delights and fabulous drinks, Coya is an experience in itself. If you head there in the evening, you might find yourself in the midst of courteous service staff as well as an array of beautifully plated meals that are equally nutritious. Go for their vegetarian dishes for the full experience.
Khayal. If you're the kind of person who likes to take an immersive approach to their food experiences, Khayal is the place for you. Enjoy the spectacle of its live cooking stations, where you get to watch each course of your meal get served up in real time. As for its iftars, you might be lucky enough to chance upon its nighttime buffet, which hosts some delectable Arabic dishes as well as other international cuisines.
Peppermill. On the other hand, if you're on the hunt for tasty Indian cuisine in Abu Dhabi, then Peppermill is the place for you. An oft-visited haunt, expect quality dishes with a gourmet touch. For iftars, head here for a satisfying buffet after a day's fast.
Shop 'til you drop
In Abu Dhabi, one may find themselves at the cusp of many deals and unique pieces—that is, if you know where to look. That said, here are a few places to check out for your next bonanza:
YAS Mall. Located next to Abu Dhabi's Ferrari World, YAS Mall is where you go to splurge. Hosting tons of international retail stores,  stock up on some dirhams and feel free to get your hands on a few choice items you would've had to travel around to get.
Gifts Collection. For something a little more up to the bargain, Gifts Collection is an excellent alternative for those with a limited budget but an eye for the interesting. From watches to bags, to shoes, look around long enough, and you might be able to cop something out-of-this-world.
Go on a splurge of a lifetime now
If the dazzle and glamor of Abu Dhabi seem to be your cup of tea, you can head there now at the push of the button. After all, if you're going to one of the world's most luxurious cities, might as well travel luxuriously as well. That said, come over and submit a flight request with us. Not only will we take you to Abu Dhabi in a jiffy, but we'll also ensure we do it your way—be it aircraft type, catering, or services. Fly with us now.