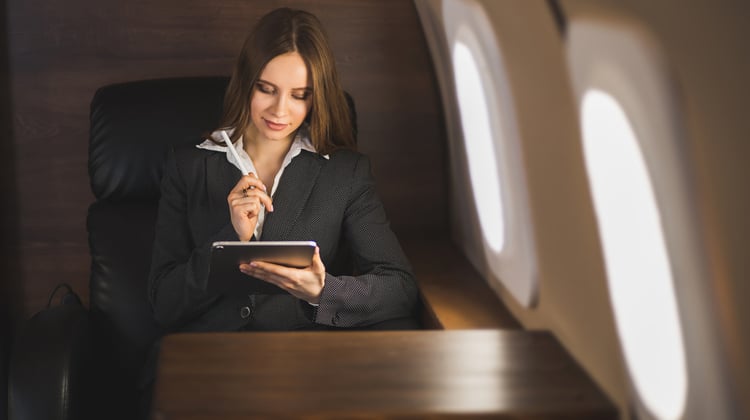 COVID-19 restrictions and risks make commercial flying a challenge – but people still want or need to travel.
That's why private jet charters are having their moment.
Unfortunately, the private charter industry wasn't 100% safe and transparent prior to the pandemic. The surge in demand has amplified existing problems and skyrocketed fraud cases.
Many private charters are completely unregulated. It's important to research any company and your rights before booking a flight. If you don't, you're at risk of losing all your money – or worse.
Private Charter Demand Surges – And So Does Fraud
Commercial airlines are still struggling to stay afloat – even with billions in government bailout cash. Demand for private charters, on the other hand, has surged by 75% compared to last year.
It's easy to see why:
You interact with far fewer people while flying private.
No crowded terminals or contaminated security screenings.
Most flights are nonstop.
Sadly, shady companies are also capitalizing on new demand to prey on unsuspecting passengers. Some scammers developed high-quality websites and optimized their search keywords to rank at the top of Google search results. However, these websites offered private flights between Europe that didn't even exist.
Once someone books the "flight" and signs the paperwork, malicious fine print prevents them from seeking legal action or recouping their losses.
The problem was so bad the European Business Aviation Association and Aviation Charter Association issued a joint statement warning of such scam sites.
There haven't been any reports of blatant fraud like this in the United States (yet), but the private charter jet industry already faced huge issues with shady brokers and illegal charters. The pandemic's demand for private travel simply amplified the existing problems.
That's not to say, however, there aren't any fraudulent US sites – just that none are reported yet.
What are Illegal Private Charters and Why are They So Dangerous?
Illegal private charters are more common than you'd think.
Anyone who receives compensation to transport passengers or cargo via an aircraft without specific certification from the Federal Aviation Administration (FAA) is considered an illegal charter. You might also see illegal charters marketed as "gray charters" but there's no gray area in flight legitimacy.
Illegal private charters put you at risk for tons of huge problems.
First, you'll be boarding an aircraft flown by a pilot without certification from the FAA. That's an extremely dangerous situation to find yourself in. FAA regulations and certifications ensure the plane is properly maintained and the pilot is up to date on safety measures.
Illegal private charters also prevent you from seeking financial compensation or refunds in cases of cancellation, bankruptcy, or negligence.
How Can You Protect Yourself from Illegal Private Charters?
If you're new to private air travel, be on the lookout for any deals that seem too good to be true – they probably are.
It's important to do plenty of research before booking any flight so you can protect yourself from illegal private charters and scammers.
Ask for Part 135 Certification Paperwork
Part 135 certification ensures that the FAA has verified the pilot and aircraft to operate for compensation. FAA screenings are rigorous, complex, and ongoing. A pilot can lose their Part 135 certification if they fall short on any future inspection too.
A pilot might be licensed but if they aren't Part 135 certified, they're still considered an illegal charter.
Ask for Part 135 certification paperwork before booking your private flight. If the broker or website tries to dodge the question, go somewhere else. If they say they have Part 135 certification, ask to see the paperwork. If they can't present it, that's your cue to leave.
Any Part 135-certified pilot will be more than happy to show you their paperwork before booking your flight.
Look for TICO Registration
Private charters are largely unregulated in the US and this puts consumers at huge risk. Illegal private charters will tack on hidden fees for things like:
Wi-Fi
Landing
Catering
Pilot and crew accommodation
Booking commission
When a charter company isn't held accountable to any agency, they'll take you for every dollar they can get.
Unregulated charters often rely on malicious fine print. Bankruptcies or last-minute cancellations give them the opportunity to back away with your money scot-free.
Book your flights with companies registered through TICO: The Travel Industry Council of Ontario. TICO is a not-for-profit agency employing strict rules regarding integrity, marketing language, and accountability across the travel industry.
When you book through a TICO-registered company, you can take advantage of the benefits no matter which country you live in. You can open a case with TICO and pursue action when a company violates TICO guidelines – wherever you live.
Transparency, Safety, and Quality
Jettly is committed to ultimate transparency so you can book in confidence every time. You'll never have to worry about hidden commission fees, taxes, or surcharges. What you see is what you pay when you book.
Every Jettly operator is Part 135 certified so you know you're in trustworthy hands. Finally, Jettly is a member of TICO so you can reap the consumer protection benefits no matter where you live.
Ready to hit the open skies? Find out why Jettly is the best choice for private charter newbies and veterans alike.