Recently, there's been more of a clamor for sustainable ways of living, emboldened by recent ecological and natural crises. The transportation sector, in particular, plays a critical role in the push for sustainability, as it is both a necessary part of daily life and is one of the more significant contributors to greenhouse gas emissions. That said, there has been a directive to find more ways to decrease the impact of today's transportation modes, whether that means innovating for greener fuel sources, or perhaps designing vehicles for efficiency, so they don't have to rely on them.
When it comes to air travel, one current initiative is the push for carbon neutral flights via the use of biofuel, or fuel derived from organic material. This stands as an alternative to the current reigning fossil fuel, which derives energy from prehistoric matter. Not only are biofuels sustainable in the long run, but they are also cleaner, producing fewer waste by-products in the atmosphere as compared to conventional power sources.
Some, however, have cautioned against the use of these for full-scale aviation services, as it would apparently require a more extensive production of raw materials as well as a risk of it becoming a priority over food consumption. This may be the case for full-on airlines, as they do require constant mobilization and make use of larger aircraft. But if one would delve into the private aviation industry for this initiative, perhaps a different story would emerge.
That said, we take a look at how private jets could help usher in a way to finally fly sustainably: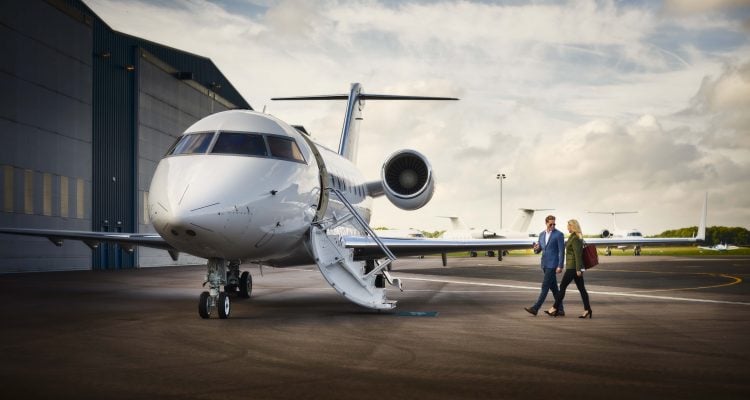 Less fuel, smaller circles
When it comes to testing out biofuel, there are two things private aviation has going for it: a typical jet consumes less fuel than a commercial plane, and there tend to be fewer jet users than airline customers. This then reduces the risks often associated with testing biofuel for aviation—and perhaps, gives it more of a chance to become a reality.
There are a lot of practical benefits that come with flying privately, such as convenience, comfort, and efficiency. However, it is also said that private jets produce more carbon emissions than a regular airliner, which can create an enormous strain on the environment. Switching to biofuel would then significantly take out much of the impact a normal jet flight would create. And coupled with advancements in fuel-efficient design, this could develop milestones when it comes to flying greener in the aviation industry.
A higher value for money
Nowadays, one could find more private jet operators and companies turning to carbon neutral methods to offset their emissions.  This includes giants like NetJets Europe, who have made carbon offsets compulsory. And surprisingly, this drive has also fetched more of a profit for the company, signaling financial viability.
That said, customers would relatively be okay with paying more for eco-friendly services, while none would seem to miss the old fuels that would be sacrificed to carbon-neutral alternatives. So aside from lessening the impact on the environment, switching to biofuels would also prove to be lucrative in the long run.
Get the latest aviation updates
To be on the top of the game, you need to know the game by heart. And at Jettly, we like to make sure we keep up with the latest aviation updates. If you want more stories like these, feel free to contact us. Or perhaps submit a flight request for good measure. The sky's the limit.