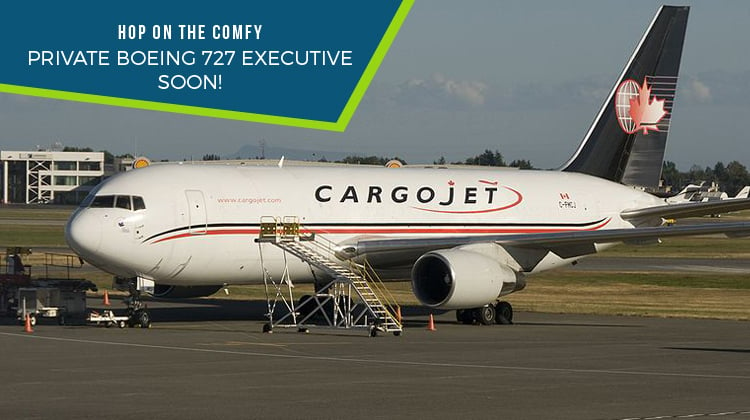 If you're going on an international trip, your flight would be exciting by being on board the private Boeing 727 Executive. This aircraft has spacious interiors and each operator has corresponding customized features of this plane for passengers to enjoy. Upon climbing up the Boeing 727 Executive, you'll see its galley complete with small appliances, cutlery and other materials needed to set you meals.  Its compartments may also be used as a pantry to store food, so you'll be covered within the next 5+ hours your trip.
The private Boeing 727 Executive also has a combination of comfy divans and passenger seats. These seats may be reclined and even transformed into workstations. Now you won't miss out on the details of your projects. The aircraft's WiFi lets you read through your emails and update your cloud based documents, even while you're in flight. Know more about the specifications of this aircraft and charter for your very own, private service on board this jet today.
Photo Credit: Alasdair McLellan
Roomy and Spacious Interiors
The Boeing 727 Executive has its own set of customized, in-flight entertainment system. These ensure you'll have a well-rested, productive and enjoyable flight. To make the most of your upcoming trip on board this aircraft, it's practical to confirm its facilities with the operator. Compared to commercial planes, the Boeing 727 Executive also has private bathrooms to ensure a comfort throughout your long range flight.
If you're going on a business trip, it sure would be helpful to find how the Boeing 727 Executive also comes with a spacious luggage capacity. This lets you bring your sleek booths if you're setting up shop at a conference. The cabin's divans and club laid out seats also have their corresponding pull out tables, which are perfect for meetings and in-flight transactions.
These interior details can further be telling of the many facilities which can be equally useful and enjoyable on the Boeing 727 Executive:
Space is equivalent to 148 to 180 passenger seats
Height of Interior: 1.98 meters
Width of Interior: 3.51 meters
Capacity for Luggage: 640 cubic feet
Approximate Take Off Weight: 180,500 pounds
Fast Speeds for Long Range Destinations
This aircraft has a speedy performance so you'll be sure to reach your destination at the fastest pace possible. The Boeing 727 Executive's flying range isn't bad either. If you're coming from Toronto, Canada, this plane can fly you to as far as Budapest, Hungary or Rome, Italy.
Have a glance through these performance specifications, so you'll have a better idea of how fast and far the Boeing 727 Executive can go:
Speed: 450 knots (kts) or nautical miles per hour (nm)
Range: 3,900 nautical miles or 7,222 kilometers
Maximum Altitude: 42,000 feet
Estimated Rate of Climb: 2,940
Given its performance details, the Boeing 727 Executive can reach its maximum altitude within less than 20 minutes. If you'll happen to max out the flying range of its aircraft, it would be practical to inquire about its allowable load with the operator. Generally, lesser passenger count plus minimized luggage weight may usually take you to farther destinations within the fastest pace possible.
Background Information
Manufactured by Boeing Commercial Airplanes, the Boeing 727 Executive has the 727 series as its inspiration. This aircraft continues to be among the most-sought after planes for private flyers, due to its flexibility for customized cabins. Today, over 1,830 727 units are being widely flown throughout the world for various purposes and applications.
If you're going on a long-range flight, the best option you can take would be to fly privately aboard the Boeing 727 Executive. See our system below and get your very own live quote today: