Fly farther and in the most convenient way possible on the EMB 170. Spaciousness can be an understatement for this aircraft, as its area has interiors to fit about 70 passengers. Some commercial airliners can squeeze in up to 78 passengers for every trip, and this can be telling of how much space this regional plane has.
The EMB 170 also has the in-flight facilities needed to ensure passengers will stay cozied up during the trip. These include a galley, lavatory and in-flight entertainment. Each passenger seat may also be customized depending on your charter service's initial lay out. For instance some services have pullout tables for their seats, while others have panel displays for your viewing pleasure. The EMB 170 also has quite a roomy luggage capacity, so you can be sure to bring all your travel essentials at your destination.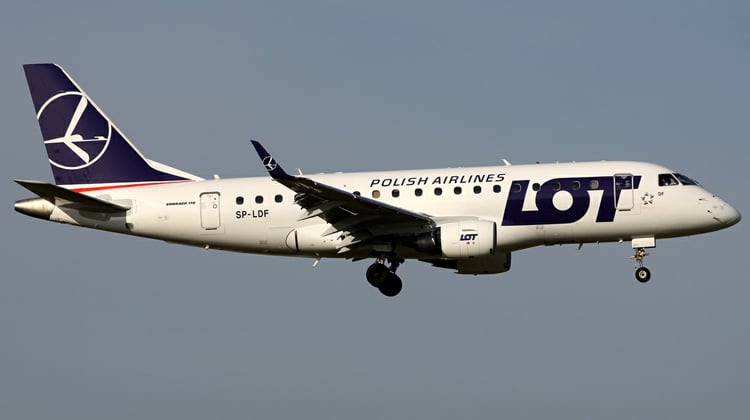 Photo Credit: Public Domain via Wikiwand
Spacious Passenger and Luggage Capacity
Will you be taking a trip from Toronto to Washington? Then the EMB 170 has the facilities which you'll exactly need to cover for you and your group. Its head room is enough for you to stand up and find your way to the plane's various areas, even while you're flying. It also has a galley for your refreshments to be prepared.
These interior specifications can serve as your guide in gauging how much space can be used on the EMB 170:
Area is equivalent to 78 passengers
Height of Interior: 1.6 meters
Width of Interior: 1.7 meters
Capacity for Luggage: 226 cubic feet
Maximum Take Off Weight (MTOW): 79,340 pounds
As you charter for a charter service, it would be advisable for you to confirm your seats' facilities. This way, you can plan for the activities which you'll carry out when you're already on board. Some passenger seats have pullout tables on each corner, so you can conveniently enjoy your food on board. Others have touchscreen panels which make it even easier for you to refer to your flight's information.
Reliable Performance for Regional Flights
The EMB 170 can give you quite a stable performance with its over 3,300-kilometer range. With the plane's steady operations, this plane is sure to bring you a predominantly smooth ride on your upcoming trip. A read through these performance specifications can be quite telling of the efficiency which EMB 170 can bring you:
Speed: 461 knots (kts) or nautical miles per hour (nm)
Range: 1,800 nautical miles or 3,337 kilometers
Maximum Altitude: 41,000 feet
When flying the EMB 170, some operators may opt to reach as far as 3,982 kilometers with a full load of 70 passengers. However as you also consider much farther distances, you may ask about how many passengers and how much load may be carried by the same aircraft.
Background Information
Introduced by the well-known Embraer Company, EMB 170 along with its variants has over 1,200 units produced and flown all over the world. Some of its commercial users include JetBlue Airways, Republic Airlines and Azul Brazilian Airlines. This narrow bodied, yet spacious plane took its first flight in 2002 and further adjustments are being made towards its improvement. Its variants include the E175, E190, E195 and the Embraer Lineage 1000. By far, one of the most passenger friendly planes would be the EMB170.
Planning to take a regional trip soon? Then it would be a practical idea to charter for a private ride, on board the EMB 170. Be sure to check your specific plane's amenities before finalizing a ride on the aircraft. Also see our live system below and get your very own live quote today: