If you're going on a regional or international flight, you might as well treat yourself with a private charter on the Hawker 400XP. This classic business jet continues to be a hit among high rollers because of its comfy cabins and luxurious features. It seats up to 9 people and if you're coming from Toronto, you can reach up to Greenland or Puerto Rico on a single flight.
The Hawker 400XP has comfy seats, and you can opt to recline your chair or pull out the side table for you to relish your refreshments. If you're traveling for business purposes, you can maximize your 2-hour flight by using the same table as your laptop's platform. This plane's standard feature usually includes WiFi, so you can stay on top of your emails and cloud files while flying in style. Know more about the specifications of this aircraft and reserve your very own, private flight today.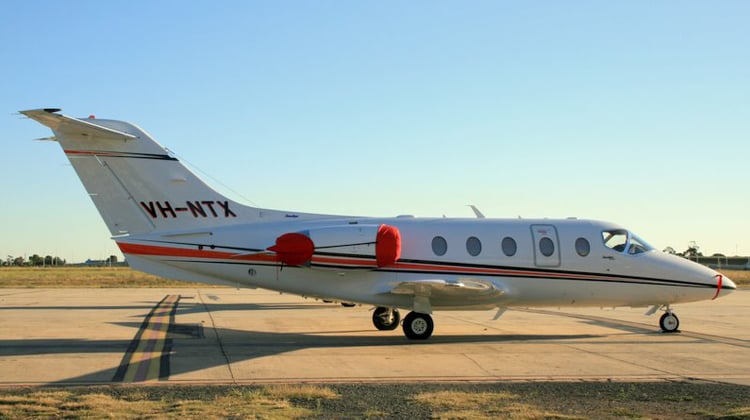 Photo Credit: YSSYguy
Spacious and Luxurious Cabins
The Hawker 400XP has been customized for you to ultimately have a comfortable, well-rested and even luxurious flight. Its features will depend on your operator's preferred layout. Usually, this aircraft has a galley with small appliances, cutlery and other related materials to fit your travel needs. Snacks, drinks and other types of refreshments can be placed in the fridge or other compartments which function as mini-pantries. Some charter services go out of their way to even place complimentary, high end champagne or wine. To know how exactly you'll experience your ride aboard the Hawker 400XP, be sure to confirm the plane's facilities with your operator.
The interior specifications are telling of the enjoyment you can have when flying on a private charter, aboard the Hawker 400XP:
Space is equivalent to 10 passengers (including pilots)
Height of Interior: 1.25 meters
Width of Interior: 1.25 meters
Luggage Capacity: 46 cubic feet
Maximum Take Off Weight (MTOW): 16,100 pounds
A High Performing Jet for Short Range Flights
If you need to reach your intended location fast, then you'll all the more find the Hawker 400XP quite agile. Its speed is competitive in reference to most small and medium sized jets. Powered by 2 Pratt & Whitney Canada engines, the Hawker 400XP also has a fast climb rate. It can already reach its maximum altitude in less than 20 minutes. You can certainly count on this plane, especially if you'll need to land on a regional destination at the fastest time possible.
These performance specifications can further guide you, so you'll know how fast and far the Hawker 400XP can go:
Speed: 450 knots (kts) or nautical miles per hour (nm)
Maximum Range: 1,519 nautical miles or 2,813 kilometers
Maximum Altitude: 45,000 feet
In some flights, you'll need to reach a much farther regional destination at the fastest rates possible. In this situation, it would be best for you to inquire about your plane's allowable number of passengers and weight of luggage. Generally, the lightest aircrafts can take passengers to much farther destinations at the soonest time possible.
Background Information
Manufactured by Hawker Beechcraft, the Hawker 400XP had its first flight during 1978. Roughly 800 units of this plane are also being flown around the world. It also has 5 other variants with similar specifications, plus different corporate and Air-Charter based operators have this plane as part of their fleet. With the Mitsubishi Diamond planes as its roots, the Hawker 400XP has certainly gone a long way. Today, it continuously serves the needs of jetsetters all over the world.
Flying off to a regional, or nearby international destination soon? Then the Hawker 400XP is exactly what you're looking for. See our system below and get your live quote today: