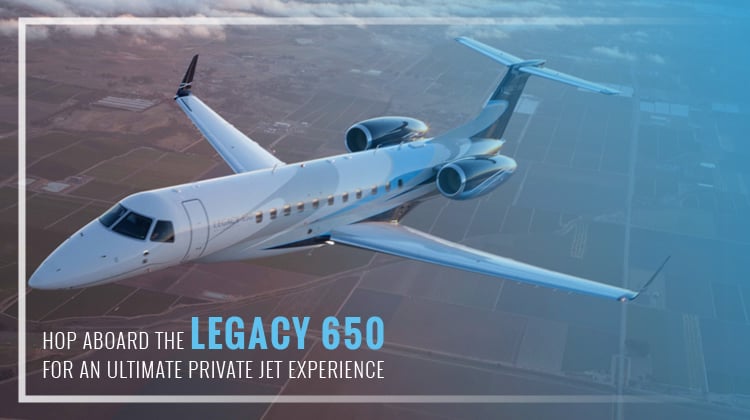 Indulge on an awesome flying experience which the Legacy 650 can provide. With its sleek exterior and interior designs, you'd be happy to know how this aircraft can take you to long range destinations. This plane is every VIP jet setter's ally in reaching the farthest parts of the world possible, and in style. Known as Embraer's latest, long bodied plane, it can fly up to 13 passengers in one go with no need for connecting flights. All you'll have to do is hop in and enjoy the luxurious features you chartered Legacy 650 can bring you.
Embraer's executive jet has spacious cabins which include in-flight entertainment systems, a preparation hub for refreshments, along with cozy seats. Are you the type of traveler who has a meticulous eye for service features? Then you'd be happy to experience the refined, minute details of this 2015-introduced aircraft. Make the most of your long range, travel journeys and charter for a Legacy 650 today.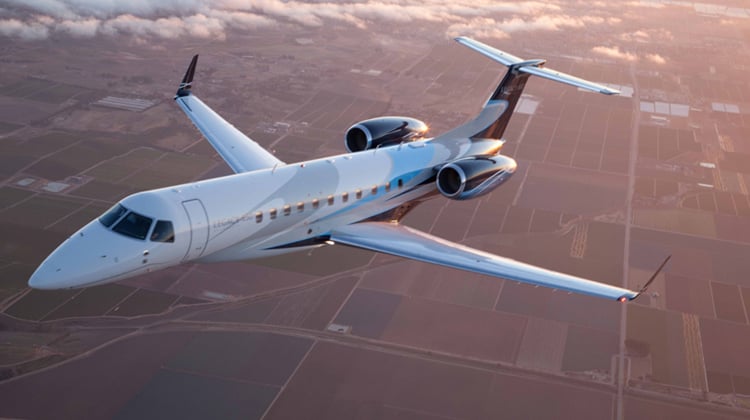 Photo Credit: Embraer S.A.
A Spacious and Pleasant Transcontinental Aircraft
The Legacy 650 has spacious cabins which have sofas, meeting and dining tables, plus a moderate sized aisle. While it can seat over a dozen passengers, the aircraft does not scrimp on luggage space. This way, you can always bring your travel essentials and other necessary paraphernalia wherever you'll intend to go. This plane additionally lets you continue your business transactions as it can function as your office's extension.
Here are just few of the specifications you can find when riding the Legacy 650:
Seats 13 to 14 passengers
Flies with a three-zoned interior
Height of Interior: 1.83 meters
Width of Interior: 2.11 meters
Capacity for Luggage: 286 cubic feet
Lavatory (the largest among its counterparts)
Did you know the Legacy 650 also has the largest in-flight and accessible bag compartments? Many customers also noted how the aircraft quietly runs, despite having the Rolls-Royce engines a few meters away from their seats.
High Level of Performance
London to New York and Sao Paolo to Miami, are among the most famous routes which the Legacy 650 has taken. Among other planes within the same category, the Legacy 650's extended performance features are complemented with fuel efficient features. Do you intend to fly to a much farther destination? Then it's advisable for you to inquire about the acceptable ratio of passengers and luggage weight, in reference to the distance of your flight's routes.
These specifications are quite telling of how well the Legacy 650 performs:
Speed: 420 knots (kts) or nautical miles per hour
Range: 3,900 nautical miles
Distance of Takeoff: 5,741 feet
Distance of Landing: 2,842 feet
Maximum Altitude: 41,000 feet
Embraer's Legacy 650 can excellently perform in highly elevated runways, at high temperatures. The same aircraft can access airports with high elevations at up to 13,800 feet. Now there's no need to be hassled by frequently flocked airports. If you'd like to have more peace and privacy the next time you land, the Legacy 650 can take you to much more secluded landing areas despite steep approaches.
Background Information
With Legacy 600 as its forerunner, Legacy 650 was officially launched in 2009 at the Annual National Business Aviation Association convention in the United States. Several years after, it gained top flight certifications U.S. Federal Aviation Administration (FAA), Brazil's National Civil Aviation Agency (ANAC), and the European Aviation Safety Agency (EASA). Up to now, various private corporations, individuals and many other organizations continue to place their orders of the Legacy 650.
Charter the Legacy 650 for utmost comfort and more landing options on your long range flight. See our system below and get your live quote today: