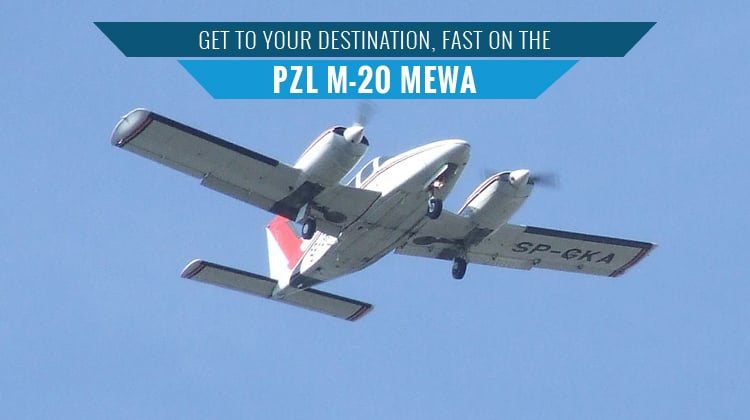 Are you rushing for a regional meeting? Or perhaps you'd like to take a quick trip for a getaway. Either way, it sure would be fun to hop aboard the PZL M-20 Mewa. By chartering for this aircraft, you can reach your intended location within just a few hours. This plane can let you reach up to Texas in the United States or even Cuba, if you're coming from Ontario.
When on board this plane, you can choose to fly from or to smaller airports with short landing areas. This would be advantageous especially if you're opting for airports which are much nearer to your intended destinations. This 5-seater plane has comfortable chairs so you can cozy up throughout your short range trip. Its interiors' wide, rectangular and transparent windows also enable you to enjoy the aerial views of your flight as well.
Photo Credit: Hubert Śmietanka
Comfortable, Breathtaking Views
When aboard the PZL M-20 Mewa, you'll surely have an enjoyable, even breathtaking journey despite a short trip. It would even the perfect plane especially if you're up for a mesmerizing, flight adventure. It can seat up to 5 passengers, as its interiors have been maximized and customized for comfort. A standard PZL M-20 Mewa would also have cup holders, beside each passenger seat with a lengthy, stretchable legroom. It's an agile plane with just enough space for you to marvel at the skies, landscapes and bodies of water which you will be flying over.
These specifications may serve as your guide to gauge the level of riding experience you'll have, upon chartering for a private flight on the PZL M-20 Mewa:
Seats up to 6 passengers (with pilot included)
Height of Interior: 1.48 meters
Width of Interior: 1.78 meters
Maximum Take Off Weight (MTOW): 4,554 pounds
Efficiency and Agility in Performance
When aboard the PZL M-20 Mewa, you have more options for takeoff and landing areas. It can operate from smaller airports with shorter strips. It has ample speed for the farthest distance which a small jet can reach. Given your intended destination, it would be best to confirm the number of passengers you'll ride with, plus the luggage weight which you'll be bringing. This way, you can have an efficiently laid out flight plan with your charter service.
These performance specifications are telling of the level of efficiency you'll have on the Polish made plane:
Speed: 200 knots (kts) or nautical miles per hour (nm)
Stalling Speed: 61 kts
Range: 1,300 nautical miles or 2,408 kilometers
Maximum Altitude: 25,000 feet
Climbing Rate: 1,500 feet per minute
Did you know this plane is frequently being flown all over Europe? If you're also a fan of frequent flying adventures, you can always take aerial breathers aboard the aircraft since it's considered to be fuel efficient.
Background Information
Manufactured by PZL-Mielec, the PZL M-20 Mewa was initially used as an ambulance service since it was first flown in 1979. There are only a handful of aircrafts which have been produced in this model. About 20 units are flown for military, aiding and touring purposes. Developed based from its predecessor, the Piper PA-34 Seneca, this aircraft is in a limited edition. It can certainly provide a delightful experience with every flight because of its agile performance and comfortable ride.
If you need to travel within a regional range and you need to quickly reach your destination, the PZL M-20 Mewa can meet your needs. It simply has the mechanism for you to have more airport options for landing and take offs, since it can fly from and to shorter strips. Get there fast by seeing our system below, and securing your live quote today: