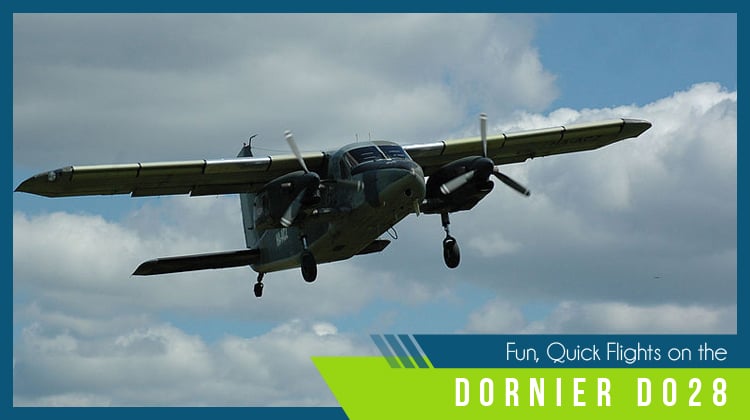 Most times, gliding by the skies is far better than taking on a 17 hour road trip. Perhaps you're going to a regional vacation spot, or you need to rush across the city for a meeting. Either way, the Dornier Do28 can certainly take you there. This convenient aircraft has the short-range flying mechanism, plus Short Take Off and Landing (STOL) capabilities you'll need to quickly reach your intended location. If you're coming from Toronto, Canada, the Dornier Do28 can take you to as far as Nova Scotia or Missouri, USA.
One standard and updated feature of a chartered Dornier Do28 would be its WiFi connection. This feature lets you stay in touch with your friends, family and business colleagues even while flying. Upon scheduling for a private flight on the Dornier Do28, it would also be practical to inquire about its exact facilities from the operator. Know more about the specifications of this plane and book for your very own, private flight aboard it today.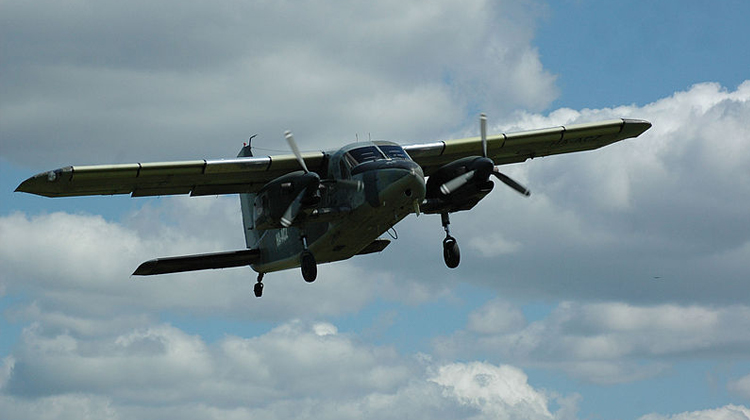 Photo Credit: Bernd Witzmann
Practical and Flexible Interiors
Upon hopping on board the Dornier Do28, you'll find how its interiors are quite practical. Its seats have sufficient legroom, and the windows are also generously wide so you'll have a much better appreciation of the horizons you'll fly on. Have mesmerizing views of the landscapes, mountains, cities and bodies of water which you'll be flying over. Within the next hour or less, you can prepare to be awed by bird's eye views of the sceneries below you.
These interior details can also be telling of what you'll experience upon booking for a short haul ride on the Dornier Do28:
Can seat up to 12 passengers
Height of Interior: 1.98 meters
Width of Interior: 1.68 meters
Maximum Take Off Weight (MTOW): 5,984 pounds
Since this aircraft is developed for short range flights, it does not necessarily have a luggage compartment to store bulky bags. Still, its interiors may accommodate for some light paraphernalia so you'll get to bring your necessities for quick getaways, or presentation materials for business meetings.
Steady Glides for Short Flying Distances
Quick trips can turn into a sightseeing spree whenever you're hopping aboard the Dornier Do28. This aircraft has a steady speed and enough maximum altitude for you to efficiently reach your intended location, and appreciate the views you'll fly over. One of the major perks of booking for a private Dornier Do28 would be its STOL capabilities. With the ability to fly to or from short runways, you'll have more airfield options so you may avoid cramped airports. You can even land on remote locations or areas which are nearest to your intended destinations.
Have a look through these performance specifications so you may have a better idea of how far and fast the Dornier Do28 can go:
Speed: 210 knots (kts) or nautical miles per hour (nm)
Range: 700 nautical miles or 1,296 kilometers
Service Ceiling: 20,700 feet
Climbing Rate: 1,400 feet per minute
Will you happen to max out the flying range of this plane? Then it would be best and safe to inquire about its allowable passenger and baggage load from the operator. Keep in mind, a lighter aircraft can fly to much farther destinations within the fastest rates possible.
Background Information
Manufactured by Dornier Flugzeugwerke, the Dornier Do28 was first flown in 1959. This aircraft was initially an upgrade of the Do27, and Do28 particularly had improved engines plus landing gear. A lot of other variants followed through right after the Dornier Do28 was developed. About 17 variations were made to fit various applications. During its early years of operation, it had roughly 24 military operators from 22 countries such as Spain, Morocco, Germany and Israel. Its civil operators come from France, Thailand, the Philippines, Somalia and Colombia.
For short range trips, it's always fun to charter a Dornier Do28. See our system below and get your very own live q tuoe today: