Planning to go halfway round the world? Then it would be a convenient idea to ride in style, on board the Challenger 605. This Bombardier-made aircraft has the stylish interiors which can bring comfort for passengers throughout their 5-hour ride. The Challenger 605 is also known to have much wider and clearer windows. This way, you may have a better view of the horizons and skies which you'll be flying along.
AS you climb on board the Challenger 605, you'll find it also has a standard galley on the right. This contains the small appliances and other related materials to freshly prepare your food. Some of them include a microwave oven, coffee maker and espresso machine, plus a chiller or fridge. Cutlery, wine glasses, and table napkins will also be provided. To make the most of your upcoming trip, it's always best to confirm the plane's exact list of facilities from your operator. Know more about the specifications of this aircraft and be sure to charter for your very own, private flight today.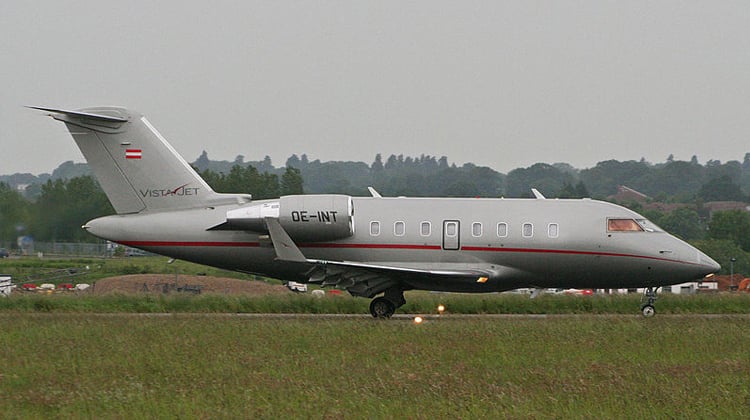 Photo Credit: Alan Wilson
Cozy and Convenient Interiors
As you hop on the Challenger 605, you'll find this aircraft has comfy combinations of standard passenger seats and divans. The seats may be reclined, while divans can also be turned into beds for naps and sleeping. On the side of each seat, a table can be pulled out and this can be used for you to relish your meals, snacks and drinks. The same table may also be transformed into a platform of your laptop. With the use of the aircraft's WiFi connection, you can stay productive by reading through your emails and updating your cloud based documents. You can also access the internet to keep in touch with your friends and loved ones. For passenger comfort, the lavatory may be found at the cabin's rear.
These interior specifications can be further telling of how your flying experience can get convenient on the Challenger 605:
Can seat up to 10 passengers
Height of Interior: 1.85 meters
Width of Interior: 2.49 meters
Capacity for Luggage: 115 cubic feet
Maximum Take Off Weight (MTOW): 48,200 pounds
Fast Speeds for Long Range Flights
As you hop on the Challenger 605, you can count on how it can bring you to your intended destination at the soonest time possible. Upon taking off, did you know this aircraft can reach its maximum altitude in less than 15 minutes? This definitely shows how fast the aircraft can fly. If you're also coming from Toronto, Canada, you can fly as far as Moscow, Russia, Hawaii, USA or Budapest, Hungary on this aircraft.
Have a look through these performance details, so you can gauge how fast and far this aircraft can go:
Speed: 459 knots (kts) or nautical miles per hour (nm)
Range: 4,077 nautical miles or 7,550 kilometers
Maximum Altitude: 41,000 feet
Climb Rate: 4,450 feet per minute
Will you also be maxing out the flying range of this aircraft? Then it would be safe to inquire about its allowable luggage weight and passenger count. Generally, a lighter aircraft can fly you to the farthest destinations within faster paces.
Background Information
Manufactured by Bombardier Aerospace, the Challenger 605 is part of the 600 series where the first edition took flight in 1978. As an improvement of the 604 variant, the Challenger 605 was intended to be built with larger and longer cabin windows.  Its interiors were mainly improved to ensure a comfier passenger experience throughout the flight.
If you're planning up an international flight soon, it would be luxurious to hop on a Challenger 605. See our live system below and get your very own live quote today: