If you're going to a meeting or on a weekend getaway, you can speedily reach your destinations on board the private Piper PA31 Navajo Chieftain. This 7 seat aircraft has comfy seats and the agility to reach even smaller airports. It has Short Take Off and Landing (STOL) capacities, so you can fly to or from shorter strips. As a standard feature, this jet has WiFi so you can stay connected with your friends, loved ones and professional networks throughout a 1-hour trip.
The Piper PA31 Navajo Chieftain's luggage capacity is even sufficient for you to bring your presentation materials with you for a meeting. If you're traveling for leisure, the same compartment can also store the essentials you'll need during the getaway. Know more about the specifications of this aircraft and schedule for your very own private charter today.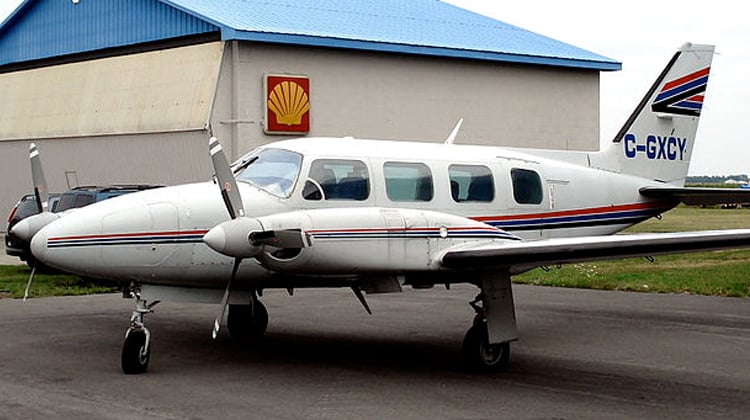 Photo Credit: User:Balcer
A Practical and Comfy Cabin
The Piper PA31 Navajo Chieftain has wide windows so passengers can enjoy the sceneries which the plane will be flying over. Whether you're en route to a meeting or a vacation, you can get mesmerized by mountains, landscapes and bodies of water which you'll fly by. The plane's passenger seats can be reclined, plus pull out tables may be used for snacks or as platform for laptops. Overall, the Piper PA31 Navajo Chieftain's interior has a comfortable feel to it compared to most rugged types of small aircraft. To fully enjoy your flight, it would also be best to inquire about the Piper PA31 Navajo Chieftain's interior details with your operator.
Have a read through these interior specifications, so you can gauge the experience you'll have on the Piper PA31 Navajo Chieftain:
Can seat up to 7 passengers
Height of Interior: 1.6 meters
Width of Interior: 1.6 meters
Capacity of Luggage Compartment: 40 cubic feet
Maximum Take Off Weight (MTOW): 6,500 pounds
Steady Glides for Short Range Flights
You won't miss out on lush greens of  the mountains, tranquil waves of beaches or quaint landscapes of cities when you hop on the Piper PA31 Navajo Chieftain. This aircraft lets you marvel at the skies' horizons due to its steady paces of speed. If you're coming from Toronto, Canada this plane lets you reach as far as St. John's  in Newfoundland and Labrador, or Wyoming in the USA.
To give you an idea of how fast and far the Piper PA31 Navajo Chieftain can fly, have a look at these details:
Speed: 195 knots (kts) or nautical miles per hour (nm)
Range: 1,210 nautical miles or 2,240 kilometers
Maximum Altitude: 26,300 feet
Climbing Rate: 1,445 feet per minute
Perhaps you might happen to max out the allowable range of this plane. In this case, it would be practical to ask about its allowable passenger and luggage load from the operator. This way, they may jot down the best route and schedule combinations to prepare your flight plan. Keep in mind, a much lighter aircraft can fly you to farther destinations at the fastest paces possible.
Background Information
Manufactured by Piper Aircraft, Inc. the Piper PA31 Navajo Chieftain experienced its first flight in 1964. Since then and up until today, over 3,900 of its units are being flown all over the world. It has roughly 14 variants and sub-developments, where its components were modified to fit their corresponding applications. Some of its operators come from the Bahamas, France, Sweden and Dominican Republic.
If you're taking on a short range tour, a private ride on board the Piper PA31 Navajo Chieftain would be practical, fun and convenient choice. See our system below and get your very own live quote today: