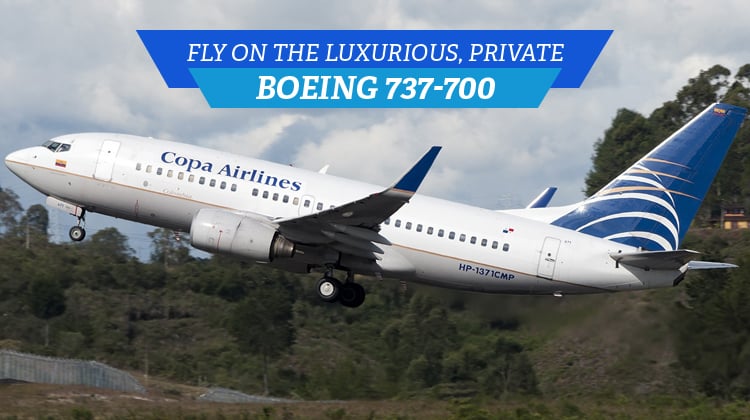 If you'd like to have the utmost comfort and most complete facilities on your next flight, it's best to book for a Boeing 737-700. This plane has been customized to ensure its passengers' needs and requests will be met throughout the hours of their trip. The Boeing 737-700 has spacious interiors which are equivalent to 149 passenger seats. Its speed at 400 knots isn't bad either, considering its size. As a large airliner, it has the cruising speed and altitude that's competitive among other top planes. You'll certainly have an enjoyable journey on this plane, as you travel as far as Iceland or Colombia if you're coming from Ontario.
Since its first flight in 1997, the Boeing 737-700 and its major variants have top commercial airliners as its users. These include Ryanair, Southwest Airlines, Lion Air and many more. As you book for your very own, private flight aboard the Boeing 737-700 be sure to confirm the facilities of your prospective aircraft. This way, you can make the most of your trip and be assured your needs will be met during the trip.
Photo Credit: Andrés Ramírez
Spacious and Customized In-Flight Facilities
As a large airliner, the Boeing 737-700 has the complete facilities for passengers' comfort, including bathrooms and even possibly a kitchen to prepare the most sumptuous food. Each private charter will have its corresponding, customized facilities hence you must know their specifications beforehand.
A standard, private Boeing 737-700 will have a stretchable passenger seat so you can be more relaxed with a lengthy legroom. A seat usually has foldable tables in pull out formats. These should be useful especially for relishing meals or snacks as you look out the plane's splendid aerial views. Your table may also double as a workstation, so you can continue to prepare for a presentation or drafting your documents with the use of your laptop.
Here are more interior specifications you may consider, so you can gauge the level of comfort and standard amenities available in a Boeing 737-700:
Cabin's space is equivalent to 149 passenger seats
Height of Interior: 3.26 meters
Width of Interior: 2.13 meters
Maximum Take Off Weight (MTOW): 133,000 pounds
Efficient Trips on Wide-Range Distances
If you're coming from Ontario, you can travel as far as Colombia, Canada's Northern Territories or Iceland. These locations give you an idea of how far you can reach, as you schedule a private flight aboard the Boeing 737-700. This aircraft gives you the opportunity to fly much farther when privately reserved, compared to riding on cramped commercial flights. With much lesser load, the Boeing 737-700 will have much better chances of achieving its optimal.
These performance specifications serve as a guide, so you may gauge the efficiency of your trips when on board the Boeing 737-700:
Speed: 149 knots (kts) or nautical miles per hour (nm)
Range: 2,550 nautical miles or 4,723 kilometers
Maximum Altitude: 41,000 feet
Background Information
With over 60,000,000 million flight hours, the Boeing 737 series continue to be the most sought after aircrafts among commercial and private flyers. Its flying history is certainly impressive, since its first flight in 1997. Today, over 6,000 units have been flown all over the world. The Boeing 737-700 is also used to carry cargo, as hundreds of the usual passenger seats can be dismantled to allow more space for pallets and other warehouse materials. With its cabin's flexibility, it's no wonder why the Boeing 737-700 continues to be among the most in-demand aircraft to this day.
If you're travelling far for leisure or business purposes, you can experience utmost comfort on your flight aboard the Boeing 737-700. Be sure to see our system below and get your live quote today: