Planning for a regional flight? Then the high performing, four-engine BA146-200 / Avro RJ85 should be fitting for your private trip. This aircraft is widely used for its agility since it can operate on short takeoff and landing (STOL) runways. It's ideal for small city airports, so if you'll have a meeting somewhere with limited flying or landing strips this plane will meet your needs. This plane has an area equivalent to 100 passengers hence it's quite spacious enough for relaxing, two-hour flights.
With its speed and range, you can hop on board and embark on a trip to Alberta if you're coming from Ontario. You can even take on an international trip to see the tropical sceneries of Kingston in Jamaica. The BA146-200 or Avro RJ85 has complete interior facilities to make sure you'll have a comfortable flight. To gauge the level of experience you'll have on a BA146-200 / Avro RJ85 charter, be sure to ask about your plane's customized facilities with your provider.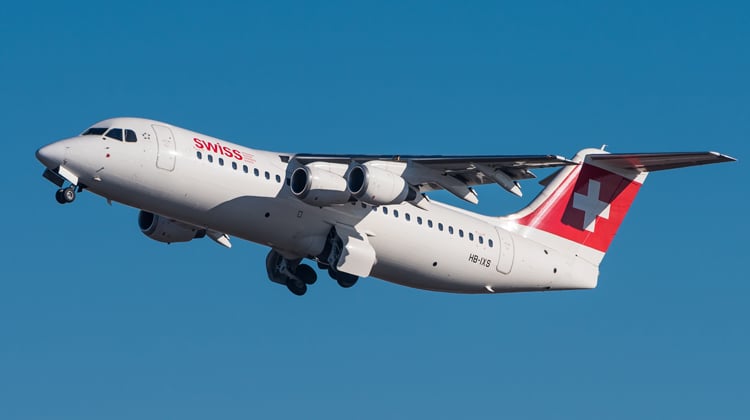 Photo Credit: Julian Herzog
Cozy, Spacious and Convenient Interiors
Traveling on a private BA146-200 / Avro RJ85 has its priceless share of amenities. For instance, its cabin is laid out with passenger seats which may be stretched out for more leg room. There are customized British Aerospace units which have control panels, monitors and foldable tables beside their seats. You may also check on how your charter has included a galley in the plane for in-flight refreshments. With its 100-passenger capacity, there are certainly a lot of ways to customize the interiors of this aircraft to cater for its passengers' needs.
These specifications can be telling of what you'll enjoy throughout your private flight on a BA146-200 / Avro RJ85:
Can seat up to 112 passengers
Height of Interior: 3.26 meters
Width of Interior: 2.07 meters
Capacity for Luggage: 645 cubic feet
Maximum Takeoff Weight (MTOW): 93,000 pounds
Built for STOL Runways
Given its flight efficiency, the BA146-200 / Avro RJ85 has been widely used by over two dozens of international operators. This plane has four, Avco Lycoming ALF 502 turbo fan engines which are mounted above its fuselage. A private flight on this plane gives you more options on your flight plans, so you can efficiently make sue of your travel time. Its flexibility can be attributed to its capacity to operate on Short Takeoff and Landing (STOL) runways. The BA146-200 / Avro RJ85 can also reach your destination on a more serene airport, if you're avoiding cramped spaces upon your departure or arrival.
Did you know the BA146-200 / Avro RJ85 can also fly quietly? This is why many would often refer to this plane as the Whisper Jet. To gauge the level of flying experience you'll have on board this plane, check out these performance specifications:
Speed: 380 knots (kts) or nautical miles per hour
Range: 1,600 nautical miles or 2,963 kilometers
Maximum Altitude: 35,000 feet
Background Information
The BA146-200 / Avro RJ85 had its first flight in the early 80s. Manufactured for purposes of efficient flights on short hauls, the British Aerospace pioneered this very aircraft and its production continued for 20 years. Today, over 300 units of BA146-200 / Avro RJ85 were produced for various, similar applications. Its series roughly has 6 series for military, civilian passengers and VIP flyers, among other purposes. Some of its top, primary users include the Swiss Global Airlines, Brussels Airlines and many more.
Whether you're having a business trip or regional vacation, the BA146-200 / Avro RJ85 should be the agile aircraft to take you there. Reach your intended location by seeing our system below and getting your live quote today.