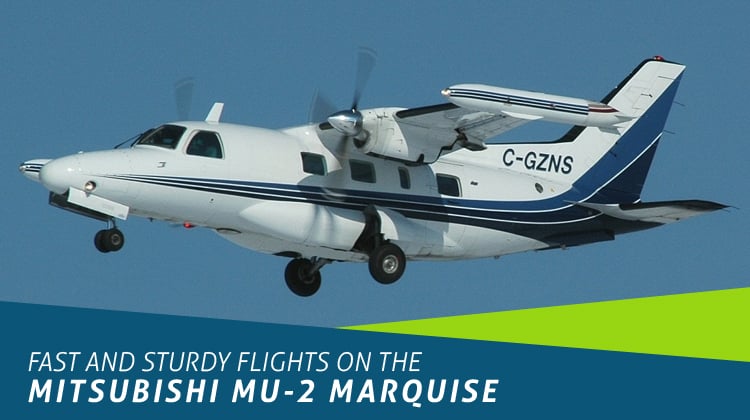 Are you frequently on-the-go and would like to make the most of your time? Then chartering a Mitsubishi MU-2 Marquise would be the easiest way to reach your destination. This Japanese designed aircraft has been continuously assembled and distributed all throughout North America, by the Mooney Aircraft Company. It has a decent cabin space, enough for you to stay comfortable and all ready for your transactions upon hopping off the plane. If you're a leisure traveler, you'd be happy to know you can reach your weekend's getaway location in less than a few hours.
Securing a private flight on the Mitsubishi MU-2 Marquise means you'll have a large and pressurized cabin space, along with sufficient allowance for luggage capacity. From its military roots in Japan, the Marquise's turboprop powered engine can fly 6 to 9 passengers to short range destinations. The MU-2 aircraft also has 2 variations. MU-2 Solitaire has a short body can carry 6 to 7 passengers. The Marquise is MU-2 long body version, as it can seat 7 to 9 individuals.
Photo Credit: John Davies – CYOW Airport Watch
Has Sufficient Space for Comfortable Rides
While you'll only be riding on the Mitsubishi MU-2 Marquise for a few hours or less, your charter still ensures your travel will be pleasant. Its cargo carrying features also allow for you to access your belongings, even while on flight. The Marquise's pressurized cabin space is sizable enough for you to relax a bit and eventually prepare for your intended location. The aircraft's in-flight features will also depend on the customization settings of the charter. Be sure to ask for the features' details, so you may know what to expect of your prospective service.
Here are some specifications to give you an idea on how you'll experience the ride aboard Marquise:
Seats 7 to 9 passengers
Height of Interior: 1.49 meters
Length of Interior: 1.28 meters
Luggage Capacity: 31 cubic feet
Maximum Takeoff Weight (MTOW): around 11,500 pounds
Some units were customized to include a food preparation area. Additionally, what makes being aboard this compact plane awesome are its windows. By looking through them, you'll have a clear aerial view of the landscapes and bodies of water which you'll be flying by.
A Classic among High-Performing Turboprop Aircrafts
Since its introduction during the 1960s, the Mitsubishi MU-2 Marquise maintains to be a top performer when it comes to flying across short range destinations. It continuous to be speedy, enough for passengers to reach their intended locations and avoid road-related traffic jams.
Labeled as one of the fastest of its kind, here are some details to give you an idea of how speedy it can go:
Speed: 268 knots (kts) or nautical miles per hour (nm)
Cruising Speed: 261 kts
Range: 1,395 nautical miles
Climbing Rate: 13.4 meters per second
Service Ceiling: 29,000 feet
Background Information
Since its first flight during early 1960s, roughly over 700 units of Mitsubishi MU-2 Marquise have been produced within the next two decades. The aircraft's roots can be traced during the postwar period of Japan. The MU-2 was operated as a front-line service among troops. It has been Japan's reliable, flying ally when it comes to its Air-Self Defense Force operations. Fast tracking towards 1987 and 2009, the same aircraft was ordered for training purposes. Flight simulations and around-the-world journeys have been witnessed by this plane model.
Today, the Mitsubishi MU-2 Marquise is mostly listed among various choices of air charter businesses. If you're planning to have a quick and worry-free travel, it would be a great idea to consider this aircraft. Know more about its specifications. See our system below and get your live quote today: