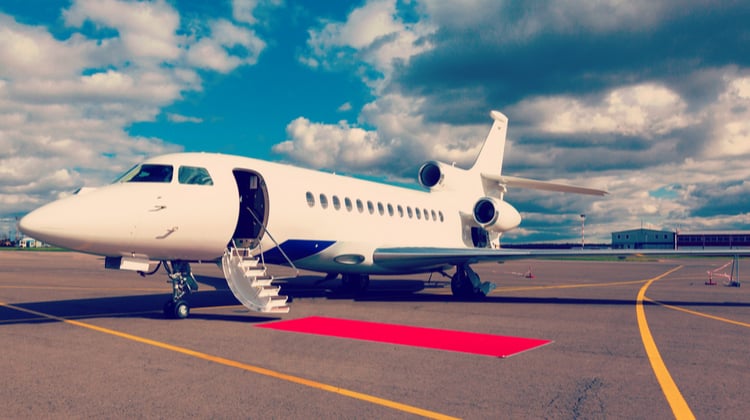 As many countries ease their COVID-19 restrictions around the world, private jet charters are having their moment.
In June, some private charter companies saw a 117% increase in customers from the previous year.
Most are newbies experiencing luxury travel for the first time!
Only 10% of travelers who had the financial means to fly private took advantage of the service before the COVID-19 pandemic hit. That's expected to change as business and leisure travelers get a taste of luxury.
Still, flying private doesn't come without its own rules and risks – especially during a pandemic.
Safety is always the top priority. Here's what you need to know before booking your trip.
Why Choose Private Jet Charters for Flying Safely During COVID?
Overall, flying on a private charter jet is remarkably safer than boarding a commercial flight for a slew of reasons.
Less Contact for At-Risk Passengers
Flying private means you'll interact with far fewer people than you would on a commercial flight. For at-risk passengers in vulnerable groups, that's huge.
Instead of wading through crowds in a congested terminal, you'll meet your pilot at a private terminal called a fixed-base operator. If your plane is ready, you can board it immediately.
Plus, you're in control of who's on your flight: It's just you, your family, the pilot, and minimal crew members.
Fewer Touchpoints to Risk COVID-19 Infection
Flying private means no more TSA security checkpoints or backed up customs queues. You won't have to risk contamination by taking your shoes off or placing your phone in the gray bins.
You also won't have to risk running through crowded gates on a layover. Ultra-long-range jets like newer Gulfstreams can manage long-haul flights without stopping for fuel.
How to Fly Safely During COVID-19 with Private Travel
Flying safely during COVID-19 is much easier when you choose private charter jets. The key is to stay informed and take a few precautions.
Check the Local Regulations, Guidelines, and Stats of Your Destination
Start your journey on the CDC website where you can get up-to-date recommendations for every country in the world. Next, check statistics and regulations from local government bodies for your chosen destination.
Ask yourself a few questions before booking:
Are COVID-19 cases increasing where you live?
Are COVID-19 cases rising where you plan to travel?
Does your destination or home require a quarantine period?
Will you be able to maintain a six-foot distance while traveling?
Do you live with anyone in an at-risk group?
Pack Your Snacks and Supplies
Your pilot and crew will take every step to make sure you're comfortable and cared for during your flight. However, things will be a little different.
Linen napkins, metal cutlery, blankets, and pillows might be swapped out for disposable options to reduce the risk of contamination.
Typical catering and drink services might not be available either so plan to bring some snacks and beverages for the flight.
Plan Extra Time for Flying Safely During COVID-19
At Jettly, we're going beyond to keep our passengers, crews, and pilots safe. As a result, quote times might take a little longer than usual.
Air operators and local governments can make changes at a moment's notice, so prepare for the unexpected. You might find fewer attendants on each flight to help follow social distancing.
Likewise, give yourself some extra time during departure and arrival. Crews work meticulously to disinfect every aircraft between services. Your pilot and crew might take your temperature and ask you some brief screening questions before boarding as well.
Ask Your Broker the Right Questions
Part of flying safely during COVID-19 involves asking your charter broker the right questions:
Has anyone who flew on the aircraft displayed symptoms or tested positive for COVID-19?
What's your disinfecting protocol between flights?
Do you have an onboard HEPA air filtration system?
Are you following CDC guidelines?
What happens if lockdown measures prevent us from arriving at the destination?
Sadly, private charter brokers are largely unregulated in the United States. Some even operate illegally. With the surge in demand, shady brokers will no doubt exploit newbie flyers by canceling flights and citing the pandemic but refuse to rebook or refund money.
You can avoid getting ripped off by checking the broker's certifications. ONLY book flights through a company registered by the Toronto Industry Council of Ontario. TICO has a strict code of ethics to prevent misleading marketing, exploitative fine print, and lack of accountability.
Everyone can take advantage of TICO protection and file complaints through them no matter where you live – as long as the broker is registered with TICO.
Communicate with Your Pilot About Any Concerns
Private jet charters put you in control. From the second you receive your quote, you can communicate with your broker and pilot about any concerns.
Make sure to ask them about updated safety protocols for passengers, changing guidelines, recommendations, what to expect on the flight, and your destination.
Run Your First Flight Search Now
Jettly only works with the best brokers and pilots in the business. All our partners are ARGUS certified and Jettly is a proud registrant of TICO – so you know you're in safe hands.
Ready to book your first private flight? Check Jettly's available routes and request a free quote now!