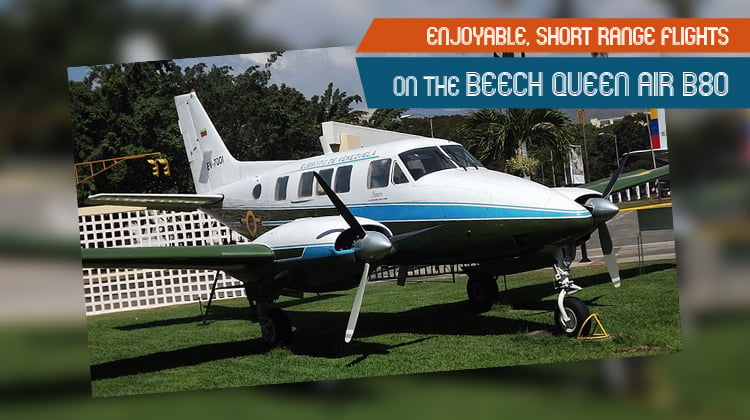 Sightseeing will always be fun when you're on board the Beech Queen Air B80. If you're a flying enthusiast who'd like to take occasional tours and breathers, it would be great to charter for the Beech Queen Air B80. This 6 seat aircraft's steady glides can fly as far as Quebec or Texas, USA if you're coming from Toronto, Canada. It can even seat up to 11 passengers. Another standard feature of the plane would be a WiFi connection. With internet access, you can be sure to still stay connected with your friends, family and professional networks throughout an hour of your flight.
Make the most of your upcoming trip by asking about the Beech Queen Air B80's list of facilities from the operator. Know more about the specifications of this aircraft, and book for your very own private flight today.
Photo Credit: Carlos E. Perez S.L
Practical and Convenient Interiors
As you hop on the Beech Queen Air B80, you'll find it has practical and comfy chairs to ensure you'll have an enjoyable flight. It even has sufficiently supplied windows so you'll experience a delightful flight with the cabin's bright atmosphere. Also, its steady flying paces are way better than simply taking on an 8 hour road trip to a regional destination or nearby international flight. This plane also has enough luggage capacity for you to bring your essentials for your getaway. If you're travelling for business purposes, you may also opt to bring your presentation materials and other related items to get you ready upon landing.
Have a look through the following interior details, so you may gauge the experience you'll have on board the Beech Queen Air B80:
Can seat up to 11 passengers
Height of Interior: 1.34 meters
Width of Interior: 1.43 meters
Capacity for Luggage: 48 cubic feet
Maximum Take Off Weight (MTOW): 8,800 pounds
Steady Flying Paces for Short Range Distances
Chartering for a private Beech Queen Air B80 is way much better than tediously driving for several hours. All you'll need to spare is an hour and a half of your travel time, and you'll already reach the other side of the state. Nearby, international destinations are also possible on board this aircraft.
These performance details can be telling of how fast and far the Beech Queen Air B80 can go:
Speed: 144 knots (kts) or nautical miles per hour (nm)
Range: 1,055 nautical miles or 1,953 kilometers
Maximum Altitude: 26,800 feet
Climbing Rate: 1,275 feet per minute
Will you also happen to max out the flying range of this aircraft? If so, it would be safe to inquire about its allowable passenger count and luggage capacity with your operator. In reference to the routes and schedules of your flight plan, a lighter aircraft can fly to the farthest destinations within much faster paces.
Background Information
Manufactured by Beech Aircraft Corporation, the Beech Queen Air series had its first flight in 1958. Particularly, the Beech Queen Air B80 was brought to the flying industry in 1964 with re-designed exteriors. It forms part of the 80 variables (80, A80 and B80), which has over 500 units being flown around the world. Some of its operators come from Israel, United States, Venezuela, South Africa and Colombia among many other countries. This very aircraft is also being compared to Beechcraft King Air, Twin Bonanza and the Cessna 404 Titan.
If you're planning up a short range trip soon, flying on the Beech Queen Air B80 would be advisable. Book your very own, private flight on this aircraft by seeing our system below and getting a live quote today: