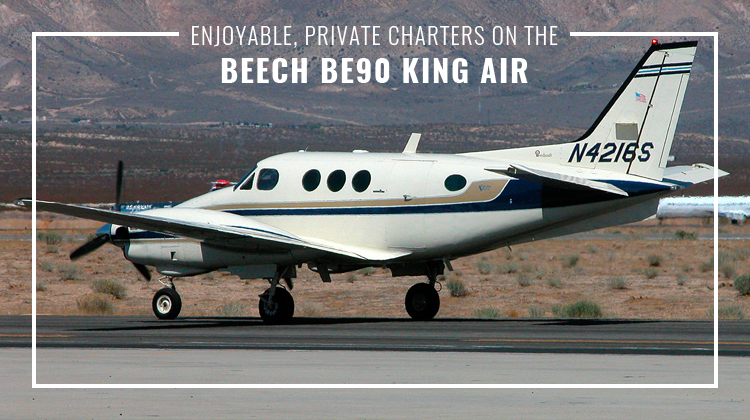 If you're fond of going on getaways or you'll need to fly from coast to coast, the Beech BE90 King Air is your ideal aircraft. This plane has the spacious interiors which can seat up to 7 passengers and 2 crew members. Should you also need to land or takeoff on short runways, this plane model is exactly what you'll need to charter for. It can operate on a much relatively farther range, with a speed to meet your urgent flights. Plus, the Beech BE90 King Air also has sufficient baggage capacity so you can bring all you'll need within a short haul trip.
Initially designed after the Queen Air, the Beech BE90 King Air was developed to meet the US Army's needs. It was first flown in the early 60s, and has been continuously used for various applications ever since. This plane has had performance oriented improvements and over 5 decades' worth of flying experience. With its specifications, you'll be assured the Beech BE90 King Air can cater to your short haul, travelling needs.
Photo Credit: Public Domain via Wikiwand
Comfort and Convenience on a Short Haul Flight
This small prop and short haul based air craft can bring you your much needed time to relax, on your way to a meeting. With its seats, you can also check whether your charter has a pull out table as part of its customized interiors. You can have your refreshments on your foldable table, or you can also opt to prepare for your reports while you're in flight. To make the most of your upcoming trip, it would be best to ask about the customized features of your chartered plane. These include in-flight entertainment and the panel features of your aircraft's seats.
These interior specifications should give you an idea of how you'll enjoy a trip on board the Beech BE90 King Air:
Seats up to 9 passengers
Height of Interior: 1.43 meters
Width of Interior: 1.37 meters
Capacity for Luggage: 51 cubic feet
Maximum Takeoff Weight (MTOW): 93,000 pounds
There are also Beech BE90 King Air units which include lavatories, as part of their pressurized cabins. Be sure to also check the plane's heated interiors as this is another standard feature which most airplanes of this model includes.
Far Ranging Travels on a Short Range Plane
When it comes to small prop aircrafts, the Beech BE90 King Air is one plane which can take you at the farthest distance possible. If you're flying from Ontario, you can reach Quebec or even go on an international ride to Oklahoma in the US, while on this plane. As part of the Model 90 series, this aircraft has its performance roots to fit the United States Army's specifications. Hence it is built to excellently fly within a short haul range.
To know the level of performance you'll experience on the Beech BE90 King Air, check out these details:
Speed: 210 knots (kts) or nautical miles per hour (nm)
Range: 1,040 nautical miles or 1,926 kilometers
Rate of Climb: 1,900 feet per minute
Did you know this plane can also fly from and land on short run ways? This feature further gives you the option to fly in much less crowded airports. You can also choose an airport which is closest to your intended destination, regardless if you're about to reach one which has a much smaller area.
Background Information
Made by manufacturer, Beechcraft Corporation, the Beech BE90 King Air was based from the Beechcraft Queen Air's design. Its test flight took place in 1963 and many modifications plus cabin upgrades were implemented to meet the aircraft's applications. By far, this particular aircraft is considered to be the most successful corporate plane in the turbo prop, twin engine category.
Thinking of traveling on a short haul soon? Then it would be practical to reap the benefits of the agile and efficient Beech BE90 King Air. See our system below and get your very own live quote today: