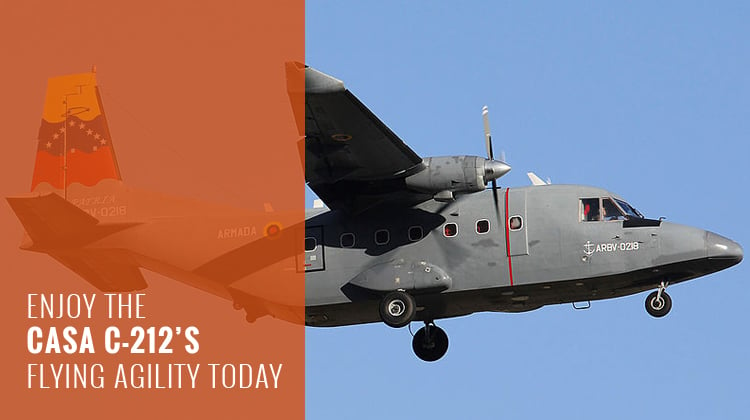 For short trips and getaways over the weekend, you can hop aboard the CASA C-212 especially if you're landing to smaller airports. This Spanish made aircraft has STOL (Short Take Off and Landing) capacities, making it much easier for you to reach islands and other remote locations. As a traveler, you'll no longer need to take a second ride on a boat after landing on crowded airports. The CASA C-212 can directly reach your intended location, as long as it has a runway.
On the average, the aircraft has a cabin space which can accommodate up to 20 passenger seats. Since its first flight in 1974, the CASA C-212 has been useful for over 73 civil and military operators from 41 countries around the world. These facts are telling of how reliable the plane can get. Thus you can be more assured to take on more adventurous routes as your operator ensures your safety. Know more about the CASA C-212's specifications and charter for your very own, private flight today.
Photo Credit: Orlando Suárez – SVZM Aero
A Convenient and Practical Experience
Since the CASA C-212 was originally conceptualized for military purposes, most of its specifications are geared towards performance and functionality. If you're a practical type of traveler, you'd most probably be delighted to find how some of its operators may allow for seat adjustments and cargo allowances. Just be sure to confirm your requests' validity with the service. Another standard feature which charter services offer would be WiFi, so you can stay connected with your friends, family and professional networks. To reiterate, facilities of the aircraft may vary depending on their operators.
These structural specifications can be telling of how enjoyable and useful the aircraft can get throughout your flight:
Space is equivalent to a 26-passenger accommodation
Length of Plane: 16.20 meters
Height of Plane: 6.30 meters
Maximum Take Off Weight (MTOW): 16,975 pounds
Agility in Performance
The CASA C-212 has inspired so many generations and series variations through the years. This classic plane also continues to be a reliable mode of aerial transportation among short range flyers. Among international military agencies, they also found how this aircraft has been helpful for surveying projects. For business and leisure travelers, this feature means the aircraft can provide steady flying paces with sturdy operational features.
Have a read through these performance details, so you'll have a better idea of how well the CASA C-212 can fly for short-range itineraries:
Speed: 162 knots (kts) or nautical miles per hour (nm)
Range: 978 nautical miles or 1,811 kilometers
Maximum Altitude: 26,000 feet
Rate of Climb: 1,630 feet per minute
If you're flying from Toronto, the CASA C-212 lets you reach as far as Quebec, Hamilton, Bermuda or even Oklahoma, United States. Given your intended location, it would be advisable for you to confirm the number of passengers who can fly with you. The weight of your luggage must also be confirmed with your operator, so better route and schedule details will be placed in your flight plan. In general, a lighter aircraft lets you reach farther destinations at a much faster pace.
Background Information
Built by Spain based manufacturer, EADS CASA, the CASA C-212 took on its first flight in 1971. It has the Series 100, 200, 300 and 400 with roughly 19 variants to function for various applications. The aircraft also expanded its unit provisions to Indonesia, with the Indonesian Armed Forces as one of its primary users.
If you're flying on a short range route, the CASA C-212 should be part of your shortlist of planes to charter for. See our system below and get your very own live quote today: