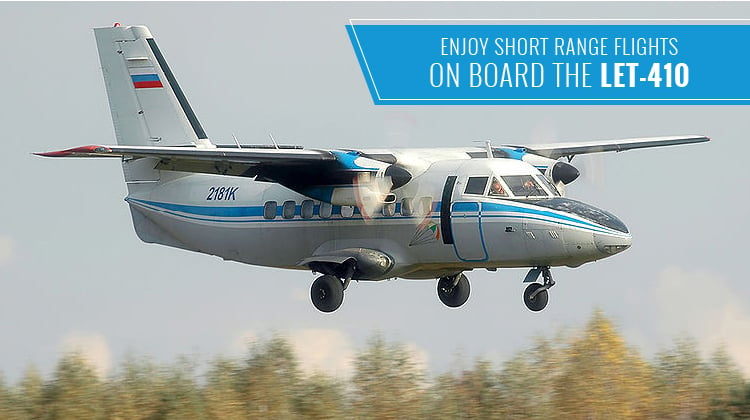 Are you planning to take on a regional destination soon? Then the best plane to charter for would be the Let-410. This 19 seat aircraft is equipped with the facilities to meet your one-hour flight. With its roots coming from the Czech Republic, this plane has had roughly variants to fit different applications. It is widely flown for its usefulness and non-frilly features. So if you're up for an adventure, let the Let-410 take you to your intended location. This classic can take you for a stable and sturdy flight.
If you're a flying enthusiast, you can ride the Let-410 and enjoy the skies' views while flying over the landscapes, mountains, rivers and other sceneries. This aircraft allows for you to reach as far as Quebec or even Indiana, United States if you're coming from Ontario, Canada. As you speak with your operator, one standard feature which you can confirm would be their WiFi set up. This allows for you to stay connected with your friends, family and professional network, whether you're flying for business or leisurely purposes. Know more about the specifications of the Let-410 and take on a leisurely flight aboard this short range plane today.
Photo Credit: Mottld
The Spaciousness of a Small Prop Plane
While the Let-410 is considered to be part of the small jet category, it is still considered to be spacious compared to most of its counterparts. Its cabin's space is equivalent to a maximum of 19 passenger seats, and its standard chairs are comfortable for you to enjoy several minutes' worth of travel time.
These interior specifications can serve as your guide, upon gauging the quality of experience you'll have when flying on the Let-410:
Spacious for a small aircraft (fits 19 passenger seats)
Height of Interior: 1.67 meters
Width of Interior: 1.95 meters
Maximum Take Off Weight (MTOW): 14,550 pounds
Sturdy Rides on Short Range Flights
The Let-410 is the type of plane which allows for you to relish your flights if you're planning to reach an international location nearby. It's also great for coast to coast flights. This aircraft is also competitive when it comes to performance in comparison to regular jets. A read through these performance details can be telling of how exciting your flight can be, as you charter for a private trip aboard the Let-410:
Speed: 210 kts (knots) or nautical miles per hour (nm)
Range: 400 nautical miles or 741 kilometers
Maximum Altitude: 20,725 feet
Climbing Rate: 1,455 feet per minute
If you're planning to reach this plane's farthest possible destination, then it's best to confirm the allowable number of people who can fly with you. Your jet's load mustn't also be maxed out, when it comes to your luggage weight. Upon confirming your number of passengers and baggage weight, your operator can then jot down your trip's routes and schedules within a flight plan. Keep in mind, a lighter aircraft lets you reach its farthest possible location at a much faster pace.
Background Information
Manufactured Czech Republic based company Let Kunovice, the Let-410 had its first flight during 1969. 48 years later, over 1,000 of its units are still being flown throughout the world. With its 14 variants, roughly 50 civilian and 40 military operators have the plane as part of their fleet. Over 5 dozens of countries have the Let-410 as their sturdy aircraft for short range trips.
Are you a practical type of flyer who needs to speedily get from point A to B on a frequent basis? Then the Let-410 is exactly the plane you're looking for. See our system below and get your very own live quote today: