Experience utmost luxury throughout your long-range flight aboard the Lockheed Tristar 500. This aircraft has the interior space to accommodate 220 passengers, so you can gauge how many amenities are available for you to enjoy. This wide bodied aircraft has the ultimate, spacious cabin which can be customized with various facilities such as lounges, bars, bedrooms, bathrooms and other options. Be sure to confirm your prospective flight's specifications so you can ensure you'll have the most spectacular flight throughout your 5-hourish trip.
When it comes to performance, the Lockheed Tristar 500 has a phenomenal speed given its loading capacity and range. It has the competitive 481 knot speed, along with a 5,297 nautical mile range. This means, if you will be flying from Ontario you may schedule for a charter to Egypt, Brazil or even Hawaii on this plane. Be sure to confirm the number of passengers who'll be on board with you, along with your luggage's weight. This way, you can finalize on your flight plan with the charter you're coordinating with.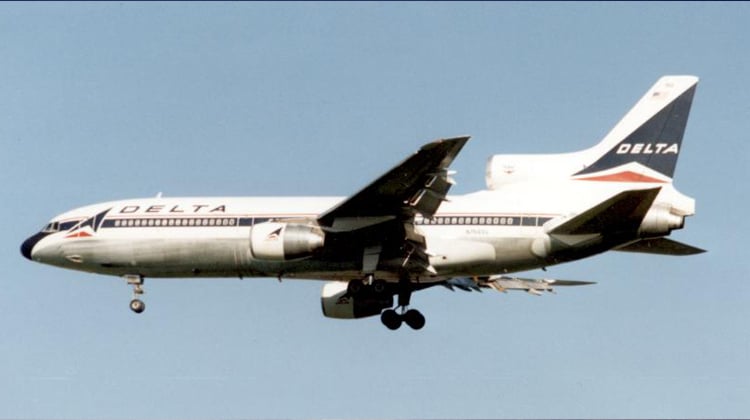 Photo Credit: Public Domain via Wikiwand
Spacious Interiors for Passengers
This classic aircraft continues to be widely used to this day, especially for those who would be travelling halfway across the world. It commercial version normally allows for first class, business class and economy flights. However all its related tiers can completely be changed depending on your agreed specifications with the charter provider. Since you will be flying on the Lockheed Tristar 500 on a private arrangement, you provide other requirements may be allowed by your service. These may include allowance for conferences so you can continuously conduct your meetings and other related business transactions while flying.
These are just some of the specifications you may consider, so you may expect the level of enjoyment you'll experience aboard the Lockheed Tristar 500:
Interior space is equivalent to 220 passenger seats
Height of Interior: 2.1 meters
Width of Interior: 5.8 meters
Maximum Takeoff Weight (MTOW): 510,000 pounds
Efficiency in a Long Range, Large Plane
The wide-bodied, Lockheed Tristar 500 has quite a competitive speed. Glide along the skies and you look out its aerial views with a 481knot's rate in agility. You'd be delighted to have the knowledge of how it has a speed equivalent to those of light weight aircrafts. Regardless of how far your intended destination may be, you can stay right on schedule for your upcoming conference or grand vacation.
A read through these performance specifications are quite telling of how fast and far you can go, when it comes to flying on board the Lockheed Tristar 500:
Speed: 481 knots (kts) or nautical miles per hour (nm)
Range: 5,297 nautical miles or 9,810 kilometers
Maximum Altitude: 43,000 feet
Background Information
Manufactured by Lockheed Corporation the Lockheed Tristar 500 was first flown in 1970. With its particularly large capacity of passengers, plus agility to travel in far distances the Lockheed Tristar 500 had a limited number of units built. There are a total of 250 planes being flown around the world. The British Airways, Orbital ATK plus Delta Air Lines are some of its primary users. This limited edition plan also has its variants the Lockheed TriStar and Stargazer, to fit their corresponding applications.
If you're embarking on a major tour and you'll literally be flying halfway across the world, the Lockheed Tristar 500 is exactly what you're looking for. Confirm the plane's interior facilities, along with its capacity to fly your intended number of passengers and luggage weight. Keep in mind, each charter service may have a different set of facilities compared to its counterpart which flies the same plane model. See our system below and get your live quote today: