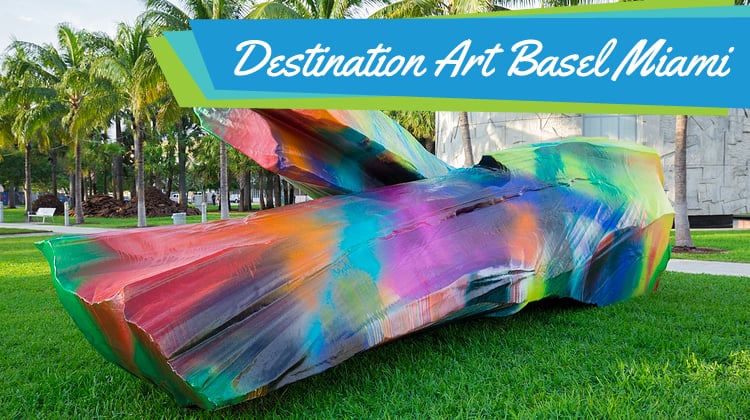 The Art Basel is part of a long-standing international tradition. Indeed, the event's origins can be traced back decades. Ah, but just what is Art Basel you ask?
Ah, but just what is Art Basel you ask?
What Is Art Basel?
Art Basel is a worldwide art fair founded in 1970 by Basel gallerists Balz Hilt, Trudy Bruckner, and Ernst Beyeler. The first show was attended by over 16,000 people. Artwork from 90 galleries in 10 countries was displayed. 30 art publishers also took part in the initial event.
Four separate art shows are held every year. The shows occur in Basel, Switzerland; Miami Beach, Florida; in the Wynwood Art District in Miami, Florida; and in Hong Kong, China.
The individual shows are organized into areas that highlight current artwork by both new and established artists. The shows include artwork related to the host city's local institutions as well as larger, participating galleries. Art Basel draws a significantly sized worldwide audience of both students and art lovers. It also gives galleries the opportunity to display and even sell their artwork to museum directors and private collectors.
Art Basel In America
The Art Basel shows in the Unites States include work from the most famous art galleries in Africa, Asia, Europe, Latin America and North America. They include art from both contemporary and modern art masters as well as that of the newest, up-and-comers. One will discover films, installations, paintings, photographs and sculptures on display.
Art Basel In Miami
Spearheaded by art historian and expert Noah Horowitz, Art Basel's official "Director Americas", Art Basel in Miami is considered by many art lovers and artists alike to be the continent's first and foremost international contemporary and modern art show. It has been held in Miami Beach, Florida since 2001. Indeed, the Miami Beach Convention Center has played host to more than 260 art galleries from 32 countries around the world. Previous shows have even included first-time guests from Zimbabwe, Togo, Romania, Nicaragua, Ethiopia, and Cambodia.
The city's own local galleries have also been represented in the venerated exhibition area over the years. Such Miami galleries as Spinello Projects and the Frederic Snitzer Gallery have been included to further demonstrate to the world that Miami is fast becoming a capital of world culture. Art Basel Miami Beach has become so important that the very mention of the event is said to charge the air with a certain exciting electricity in early December.
Over a period of five days, Art Basel Miami reportedly draws a sophisticated crowd of tens of thousands of international artists, private collectors, gallerists, curators, directors, patrons, trustees of museums and other gathering glitterati. Large-scale, ambitious artwork, live performances, and motion pictures literally become part of the outdoor landscape of the city. Just last year, Art Basel and the BMW Art Journey award was established to reward the promising artists from the Positions sector of Miami Beach and those from the Discoveries sector in Hong Kong.
The next Art Basel in Miami Beach will be held from December 7 through 10, 2017 and every year Jettly charters numerous celebrities and high profile personalities in and out of Miami's Opa Locka Executive Airport. Contact Jettly to arrange a private jet charter to take you and your party to the 2017 Art Basel in Miami.