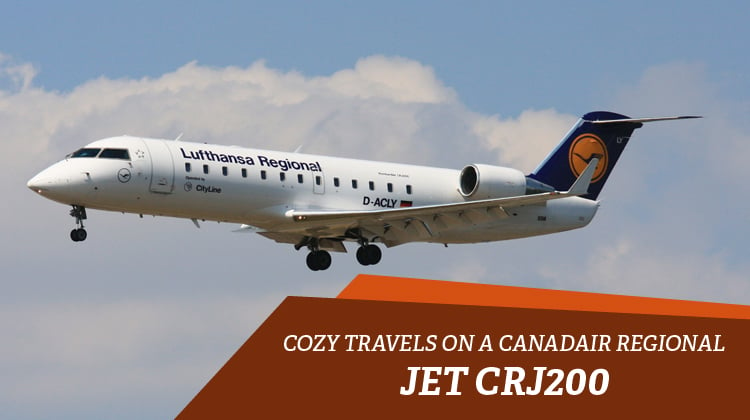 Among Bombardier's top ranges of airplanes, the Canadair Regional Jet CRJ200 was built with a longer fuselage to enhance its cabin's spaciousness.  Its area is equivalent to 50 passengers and it spaciously allows for you to bring the most luggage possible on a regional trip. This aircraft can also fly through up to 3,000 kilometers' worth of distances. It's perfect to privately reserve if you'll need to reach your intended destination within just a few hours.
Plus, it would also be refreshing to see how this aircraft's interiors can get cozy with its customized finishing. Instead of the usual line of passenger seats, a charter or private Canadair Regional Jet CRJ200 jet will have couches and divans in its cabin. Complete with applicable galleys and lavatories, you'll be sure to have a comfortable flight on board this aircraft. Be sure to ask about its already customized features from your charter provider, so you can make the most of your trip soon.
Photo Credit: Wo st 01
A Spacious Cabin for Comfy Flights
To have an idea of this aircraft's spaciousness you may check on the diameter of its fuselage, which stretches at up to 2.69 meters. Upon climbing up the Canadair Regional Jet CRJ200, you'll see the difference between a cabin filled with commercial seats and a meticulously laid out interior of a private flight. It can be a pleasant change of scenery to have a spacious private jet, as you fly on your way to your intended regional location.
These interior specifications should enable you to estimate the level of comfort you'll have, upon riding the Canadair Regional Jet CRJ200:
An area equivalent to 50 passenger seats
Height of Interior: 2.5 meters
Width of Interior: 1.86 meters
Capacity for Luggage: 250 cubic feet
Maximum Takeoff Weight (MTOW): 53,000 pounds
Top Performing Speed for Regional Distances
The Canadair Regional Jet CRJ200 flies quite steadily, given its capacity for speed and range. Perhaps you're having a grand getaway to Cancun, or you need to prepare for a meeting at Washington. Either way, you can rely on Bombardier Aerospace's CRJ200 to swiftly fly you to your intended destination.
Performance Specifications:
Average Speed: 414 knots (kts) or nautical miles per hour (nm)
High Cruise Speed: 464 kts
Range: 1,645 nautical miles
Maximum Altitude: 41,000 feet
Required Length of Takeoff Field: 5,800 to 6,300 feet
Required Length of Landing Field: 4,850 feet
The Canadair Regional Jet CRJ200 is operated with 2 General Electric CF34-3B1 turbofan engines. Given a 50-passenger allowance as its cabin's area, the plane can also bring in 2 cabin members and 2 flight staffers. Since its first flight in 1991, this aircraft still continues to deliver its promise to fly much faster and farther, while maintaining fuel efficiency.
Background Information
Manufactured by Bombardier Aerospace, the Canadair Regional Jet CRJ200 was first flown in the early 90s. The company produced over 900 planes with the said model, while having the Canadair Challenger's design as a basis.  During the mid-80s, officials brought forth a couple of ideas about lengthening the Challenger. By 1992 an early format of the CRJ200, the CRJ100 reaped a certification to be distributed and flown.
After a few more sub-variants were produced, representatives eventually pushed for the assembly of CRJ200. Other variations of the CRJ200 followed to serve specific applications. These included freighter or logistical operations, and freighters which can be converted to passenger oriented cabins.
Are you planning up a regional travel soon? To make your trip convenient, it's best to charter for a private Canadair Regional Jet CRJ200. See our system below and get your very own live quote today: