Planning up a regional trip soon? Then it would be practical and much more convenient to charter up a flight on board the Cessna 510 Mustang. This aircraft can seat up to 4 travellers plus it also has passenger seats which include lengthier leg room. As a standard feature among most private jets, the aircraft also has WiFi. Thus whether you're traveling for leisurely or business purposes, you can stay connected throughout an hour and a half's worth of flight.
As you hop aboard the Cessna 510 Mustang, you'll also find how each chair has its corresponding pull out table on the side. This table lets you enjoy your refreshments, depending on what your charter will provide or allow you to bring. You may then op to have the same table as a platform for your laptop. This way, you can catch up on emails and update your company's documents via the cloud. There are certainly a lot of reasons and features to enjoy as you charter for a private flight aboard the Cessna 510 Mustang. Know more about its specifications and schedule for your very own private ride today: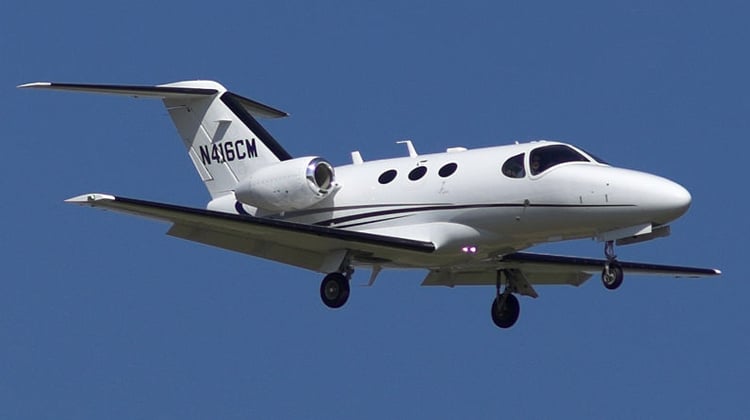 Photo Credit: Juergen Lehle
Sleek, Comfy and Stylish
The Cessna 510 Mustang's cabins are built with oval windows, so you will have a delightful appreciation of the plane's aerial views. Compared other planes, this aircraft's club laid out seats are spacious enough for your legs to stretch out. It's advisable to also inquire about the plane's customized, in-flight features with your operator. This way, you will have a much better idea of how enjoyable your flight will be on this plane.
Here are some interior specifications to guide you in gauging the level of experience you'll have when on board the Cessna 510 Mustang:
Can seat up to 4 passengers
Height of Interior: 1.37 meters
Width of Interior: 1.4 meters
Capacity of Luggage Compartment: 57 cubic feet
Maximum Take Off Weight (MTOW): 8,645 pounds
Sturdy Rides on Short Range Flights
You'll get to experience a steady flight as you charter for a private Cessna 510 Mustang. With its service for over a decade now, the farthest this aircraft has flown would be at 1,945 kilometers. Will you happen to max out the range of your prospective Cessna 510 Mustang? Then it would be necessary for you to ask about your flight's allowable number of passengers, plus how much luggage can be brought with you. This way, the operator can maximize your routes and ensure the earliest travel time within your flight plan. Keep in mind, a lighter air craft means leads to reaching much farther destinations at the soonest possible time.
These performance specifications can be telling of how efficient your short range flights can get aboard the Cessna 510 Mustang:
Speed: 330 knots (kts) or nautical miles per hour
Range: 1,050 nautical miles or 1,944 kilometers
Maximum Altitude: 41,000 feet
Climbing Rate: 3,010 feet per minute
Background Information
Since its introduction during 2006, the Cessna 510 Mustang roughly has 425 units being flown all over the world. With the plane model still in production, its primary users include GlobeAir AG, WiJet, Paris and Oyonnair SARL. Among its counterpart planes include the Piper Jet, Embraer Phenom 100 and Eclipse 500.
By chartering for a private plane on board the Cessna 510 Mustang, you can reach as far as Quebec or Texas, USA if you're coming from Toronto. See our system below and get your very own live quote today: