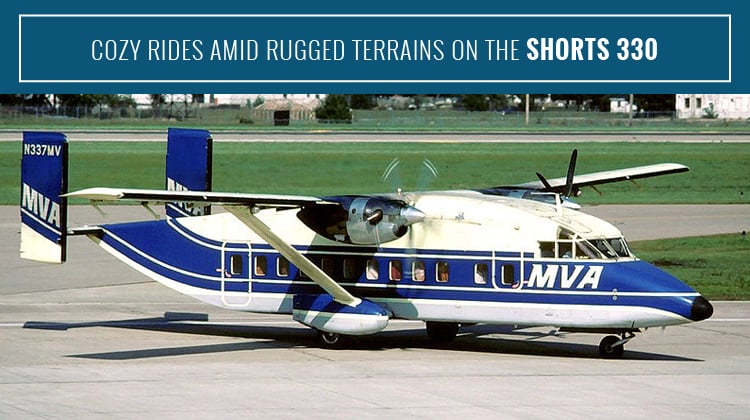 Would you like to fly on a practical yet decently cozy plane? Then the Shorts 330 is exactly what you're looking for. This military-inspired aircraft was originally introduced during 1976 and it currently has 5 variants being flown around the world. This reliable aircraft's interiors were upgraded to fit the needs of passengers for short range flights. Its space is equivalent to 30 passenger seats, plus it also has a galley to store your refreshments. To best experience a ride aboard this plane, it would be advisable to confirm its features with your chosen operator.
If you're coming from Ontario, Canada, this plane can take you to as far as Wisconsin, USA or Quebec, Canada. A standard charter on the Shorts 330 includes WiFi, so you can stay connected with your friends, family and professional network. Know more about the specifications of the Shorts 330 and reserve a private ride aboard this classic aircraft today.
Photo Credit: Eduard Marmet
Spacious and Comfy
Upon reserving a private flight aboard the Shorts 330, you'll find how its stable speed allows for you to enjoy your flights sceneries better. You can fly over landscapes, bodies of water and buildings while leisurely reaching your meeting, urgent errand or weekend getaway's destination. This is why the Shorts 330 is ideal for sightseeing activities. The aircraft also has a sufficient luggage capacity so you can conveniently bring your necessities to your intended destination. Keep in mind, this plane is a no-frill type of carrier so you can easily hop on and alight from it within less than an hour of your flight.
These are just few of the interior specifications you can find, upon hopping on board the Shorts 330:
Space is equivalent to 30 passenger seats
Height of Interior: 1.86 meters
Width of Interior: 1.83 meters
Capacity for Luggage: 1,391 cubic feet
Best Aircraft for Sightseeing
Given its speed and capacity in range, the Shorts 330 can leisurely fly its passengers to nearby, regional and international destinations. Occasionally the aircraft may be used for performance demonstrations, such as outracing parachutists down the rugged fields. The plane is also known to provide quite flights, as it flies with two Pratt & Whitney engines.
To know more about how fast and far the Shorts 330 can fly, have a read through these specifications:
Speed: 190 knots (kts) or nautical miles per hour
Range: 460 nautical miles or 852 kilometers
Maximum Altitude: 26,000 feet
Climb Rate: 1,180 feet per minute
Given your destination, you may want to confirm how many people will be riding with you on the aircraft. Generally, an aircraft can fly much farther and faster with lesser cargo. Hence it's necessary for you to inquire about the allowable weight which you can bring, in reference to your intended location.
Background Information
Manufactured by the Short Brothers from Belfast, Ireland, the Short 330 took on its first flight during 1976. Compared to other airplanes, the Short 330 is relatively affordable hence you can take as many flights as you want on this charter. Currently, this aircraft has Corporate Air and Air Cargo Carriers as its primary users. Its other variants include the Short 360 and C-23A Sherpa. Military and civilian operators from 5 countries also have the aircraft as part of their fleet.
Now you'll no longer have to sit through traffic or go on hours of road trips, on your upcoming getaway. By booking a private flight aboard the Shorts 330, you can enjoy aerial views as you reach your intended location within less than an hour. See our system below and get your live quote today: