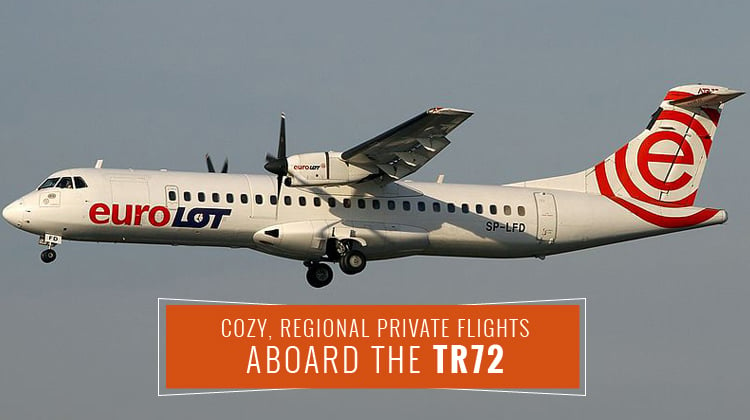 Taking on a regional flight can get even more comfortable when on board a private ATR72. This aircraft has a space equivalent to 74 passenger seats. If you're coming from Toronto, it can also fly you to as far as South Dakota, USA. The plane is equipped with all the possible facilities to ensure you'll have a relaxing flight for 80 minutes or so. For instance, its upgraded version has a galley to store and prepare your refreshments. Some of its standard features include a microwave oven, coffee maker and fridge.
Another feature which your prospective, private flight on the ATR72 would have is WiFi. With internet connection, you can connect with friends, family and professional networks even while you're flying. If you're on a business trip, you can still access your email and organize cloud based documents so you'll be work-ready upon landing. Before finalizing your upcoming private flight on board the ATR72, it would be best to confirm about its exact facilities with your operator. Know more about the specifications of this aircraft, and book your very own private flight aboard the ATR72 today.
Photo Credit: Konstantin von Wedelstaedt
Spacious and Convenient
The ATR72 has the convenient features you'll need to ensure comfy travels. Its updated passenger seats may be reclined plus they have lengthy leg rooms, for travelers to stretch their feet out and relax. With its private version, one can only imagine how many features can be placed within its cabins. Some customized seats even have pull out tables where refreshments can be enjoyed. The same tables may then be used as platforms for laptops. To make the most of your flight, it's always best to confirm your plane's features with the operator.
Have a read through the following interior specifications, so you may further gauge the flying experience you'll have on board the ATR72:
Space is equivalent to 74 passenger seats
Height of Interior: 2.54 feet
Width of Interior: 1.88 feet
Capacity for Luggage: 374 cubic feet
Maximum Take Off Weight (MTOW): 50,706 pounds
Steady Glides for Short Range Travels
With its steady speeds and flight altitude, a ride on the can get quite enjoyable. The ATR72's flying range also lets you reach nearby, international destinations within an hour or so. It's also best to hop on, especially if you'll be flying through hotter than usual atmospheres.
These performance details let you know how fast and far the ATR72 can go:
Speed: 280 knots (kts) or nautical miles per hour (nm)
Range: 910 nautical miles or 1,685 kilometers
Maximum Altitude: 25,000 feet
Climbing Rate: 1,355 feet per minute
If you're planning to bring some cargo along the flight, it would be best to confirm about the aircraft's allowable load. This is in reference to your intended destination, so your operator may jot down the best routes and schedules of your flight plan. Generally, a lighter aircraft can lead to farther destinations within the fastest pace possible.
Background Information
Manufactured by French company ATR, the ATR72 roughly has 836 units produced and flown all over the world. Its primary users include FedEx Express, Azul Brazilian Airlines and Wings Air among others. It has 4 main variants, which come with 13 versions. Currently, the aircraft has also about 27 civilian and military operators. Apart from being seen as a regional aircraft among commercial airliners, the ATR72 is also being used for flying cargo and maritime purposes.
If you intend to take on regional and nearby international trips soon, it's best to have them aboard the private ATR72. See our system below and get your very own live quote today: