Planning to take a regional trip soon? Whether it would be for business or leisure purposes, the Learjet 36A has the complete facilities to make sure you'll have a relaxing flight. For perspective purposes, this 6-seater can take you to as far as the United States' air base in Greenland, if you're coming from Ontario, Canada. This small jet's speed isn't too bad either, with its 418-knot feature. If you intend to reach a farther than usual regional location, it's best for you to confirm the number of passengers who'll be riding with you. This way, your service can further make an efficient flight plan for your trip.
Some of the Learjet 36A's amenities include a built-in lavatory, double club designed seats and customized entertainment. Flying in the next few hours aboard this jet would be extra luxurious and especially restful. This plane's features are convenient if you intend to rest up during the trip, or you would like to prepare some documents for work. Know more about the specifications of this plane and be sure to schedule aboard the Learjet 36A soon.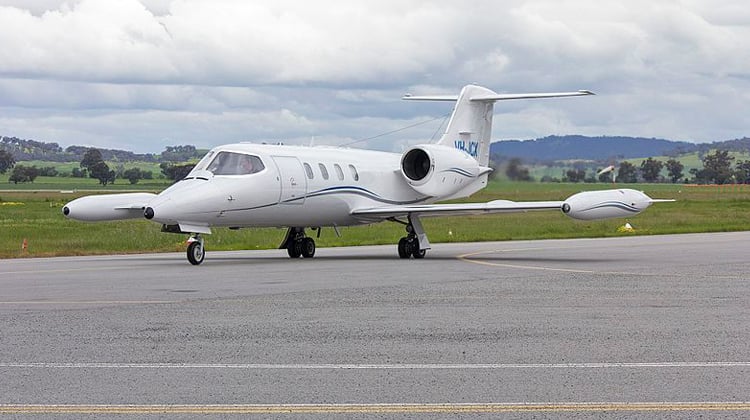 Photo Credit: Bidgee
Cozy Interiors
The Learjet 36A has comfortable interiors so you'll have an enjoyable flight. At a maximum, about 8 people can hop aboard the plane and its chairs have reclining features. A standard Learjet 36A typically has pull-out and foldable tables so you could relish your meals or work on your laptop for a few hours aboard. It's also best for you to confirm the in-flight entertainment features of your charter with the operator. This way, you can make the most of your several hours' worth of flight.
These interior specifications can guide you in gauging the quality of in-flight experience you'll have on board the Learjet 36A:
Allows up to 8 passengers (including pilots)
Height of Interior: 1.43 meters
Width of Interior: 1.28 meters
Capacity of Luggage: 40 cubic feet
Maximum Take Off Weight (MTOW): 18,300 pounds
A High Performing Small Jet
This compact, cozy and convenient jet is also known to have a competitive speed, along with a far reaching range. It can even go faster and farther, should you consider riding with lesser passengers and lighter luggage. Given your intended destination, it's also advisable for you to confirm your passengers and corresponding weight of luggage with the operator. This way, your service will find the best ways to schedule your routes and entire flight plan.
Check out these performance specifications, so you may be guided on how fast or far you can go aboard this jet:
Speed: 418 knots (kts) or nautical miles per hour (nm)
Range: 2,000 nautical miles or 3,704 kilometers
Maximum Altitude: 45,000 feet
Background Information
Among America's top corporate jets, the Learjet36A is known to be among those aircrafts which have the widest range and compact space. Manufactured by Bombardier Aerospace (formerly Learjet Corporation), this aircraft was produced with the intention to further stretch its cabin for more space. It also has a much higher Maximum Take Off Weight (MTOW) than most light jets. This means you'll have more chances to load up on your essentials on your upcoming trip. There are also private charters which allow for regional cargo transfers on this jet. However for most of its units, the Learjet 36A has been customized to allow for smooth and cozy trips with its in-flight amenities.
If you will be taking on a regional trip soon, you may consider the comfortable ride which the Learjet 36A can offer. Know more about your intended charter's actual specifications, as some details may vary depending on the operator. See our system below and get your live quote today: