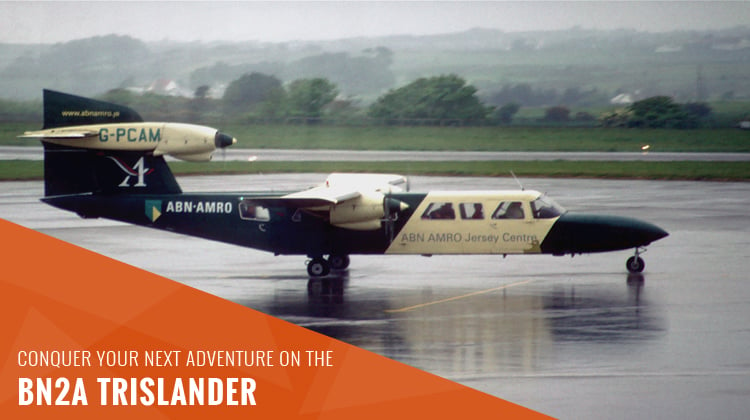 Are you planning up an outback adventure? Or perhaps you'd like to go on a remote, tropical getaway. Either way, you can fly from or to exciting terrains aboard the BN2A Trislander. This 16 – 18 seating aircraft can bring you and your fellows to your intended destination, while each of the seats has its very own door. Think of hopping on a jeep version of a plane. Only this aircraft can fly you to short range locations at over 1,500 kilometers away from your takeoff point.
What makes the BN2A Trislander extra amazing is its three engine mechanism. With the initial idea of stretching its fuselage, this trijet was inspired by predecessor DH-89A Dragon Rapide. John Britten and Desmond Norman developed the BN2A Trislander during the 70s. They built the plane to be cost effective and agile enough to fly to and from remote areas. This plane is even operable on short landing strips.
Photo Credit: Aero Icarus
Rugged Abilities on Short Range Flights
The BN2A Trislander is your cost effective aircraft which can fly in more challenging runways. Compared to other short range based planes, this charter roughly needs 50 feet to gain momentum in flying. Its fixed landing gear also needs just the same distance to start mellowing down to land its passengers. Being aboard the BN2A Trislander's longer fuselage can bring the experience of riding an air-based bus. Its efficient use of space is just enough to accommodate all passengers, plus it has extra accommodations for your luggage.
These interior specifications can give you an idea of the ride you'll enjoy upon chartering for a BN2A Trislander:
Seats 16 – 18 passengers
Allows 1 – 2 crew members aboard
Height of Interior: 1.07 meters
Width of Interior: 1.28 meters
Capacity for Luggage: 47 cubic feet
Maximum Takeoff Weight (MTOW): 10,000 pounds
Efficient Rides through Spectacular Views
Operated with three 260-horsepower engines, this Britten-Norman invention is frequently flown in tropical or island based locations. It has gone quite a long way from the fruition of an initial idea to have the aircraft as a crop spraying vessel. Today, over a dozen countries and numerous operators successfully rely on the short range efficiency which the BN2A Trislander can bring.
Have a look through these performance specifications, so you may gauge your ride on the BN2A Trislander:
Speed: 170 knots (kts) or nautical miles per hour (nm)
Cruising Speed: 134 kts
Range: 820 nautical miles or 1,519 kilometers
Maximum Altitude: 13,156 feet
Rate of Climb: 980 feet per minute
The BN2A Trislander is boosted with 4, 2-bladed propellers. It also has five variants in operation for different applications. For instance, the BN-2A Mk III-2 has a lengthier nose along with the capacity to bring heavier loads. The BN-2A Mk III-3 variant was also built to precisely operate in the United States. Lines of the BN2A Trislander are flown in various destinations such as Australia, Cayman Islands, Jamaica and Puerto Rico.
Background Information
This trijet based aircraft was first produced by Britten-Norman, in the Isle of Wight. Its first batch of planes was delivered in Romania and Belgium. Designed to be flown on remote areas, the BN2A Trislander became quite a success in Western Europe since its introduction. It was also intended to fly even on rougher fields. Today, a total of 72 BN2A Trislander planes have been built to operate in various island based locations.
If you're a fan of tropical sceneries, islands and taking on rugged adventures, the BN2A Trislander is the aircraft you can rely on. Schedule your flight soon. See our system below and get a live quote today: