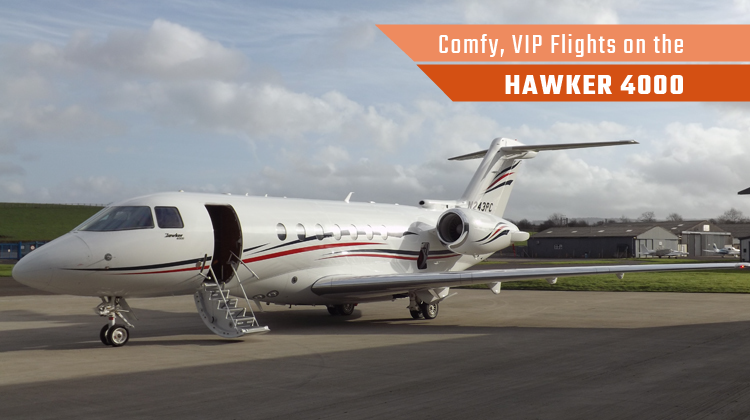 Having a 5-hourish flight? Then it would certainly be comforting to find how the spacious cabins and efficient engines of the Hawker 4000 can make your flight enjoyable. This 9-seater jet can be customized to fit the requirements of its passengers. To make your charter arrangements more convenient, it would be best to confirm about the plane's facilities so you can make the most of your journey.
Among its counterparts and series comrades, the Hawker 4000 is considered to be the quietest. Hence if you'd like to feel rested even hours of a trip, this particular aircraft should be the ideal choice. This plane brings comforting flights with its pressurized cabin and a baggage area with heaters. Feel free to take small paces as you walk around the Hawker 4000's interiors. When you'd like to relax and recline, this airplane's comforting seat lets your stretch out your legs to take a nap. This flying masterpiece certainly has a lot to offer for travelers, so be sure to consider chartering it today.
Photo Credit: James from Cheltenham, Gloucestershire
Spaciousness and Comfort in a Jet
This private jet comes in a mid-size format, so you will not feel cramped when flying aboard it for 3 hours or so. It has an airy, breathable and pressurized interior which has been customized by your charter service. As a standard feature, most Hawker 4000 units have foldable tables on each seat. This enables you to enjoy your refreshments or even work on your laptop, in preparation for a meeting or presentation. It may also come with a panel where you can further control your seat's position, lighting and perhaps access your flight information. Either way, your service will probably have more details when it comes to enhancing your flight experience.
These interior specifications can serve as your guide, so you may gauge the extent of convenience you'll have aboard the Hawker 4000:
Seats up to 9 passengers
Height of Interior: 1.83 meters
Width of Interior: 1.83 meters
Capacity for Luggage: 114 cubic feet
Maximum Takeoff Weight (MTOW): 37,500 pounds
Fast Flights on a Long Range Jet
Among jets within the same category, the Hawker 4000 may be considered as a top tier aircraft when it comes to performance. It has quite a sturdy ride which can fly you as far as Copenhagen in Denmark, if you will be coming from Ontario. This plane can reach its maximum, potential range given a lighter passenger and luggage load. Be sure to confirm the number of people you'll be flying with, along with the luggage you're carrying in reference to your intended location.
The following performance specifications can guide you as you finalize a flight plan with your charter aboard the Hawker 4000:
Speed: 470 knots (kts) or nautical miles per hour (nm)
Range: 3,3390 nautical miles or 6,278 kilometers
Maximum Altitude: 45,000 feet
Climb Rate: 2,300 feet per minute
Background Information
Manufactured by the Hawker Beechcraft Company, the Hawker 4000 took on its first flight in year 2001. As an improvement of prototypes and its predecessors, it has over 70 units produced and flown in various parts of the world. It has been a decade since the aircraft has received its Federal Aviation Administration (FAA) certification. Today, many of its VIP travelers continue to enjoy the in-flight comfort and flying efficiency which this aircraft can provide.
If you're planning to fly soon, it would be best to charter for a private flight aboard the Hawker 4000. Have a cozy, well-rested flight on the sleek aircraft soon. See our system below and get your very own live quote today: