If you're traveling for a 5-hour flight, you can do so in style, with class and utmost convenience on the Falcon 2000LX. This aircraft has the interior details you'll need, so you can have a relaxing trip to your intended destination. Whether you're going on a business trip or grand vacation, you can avoid cramped airports and risks of flight cancellations on this private jet. From Toronto, Canada, the Falcon 2000LX lets you reach as far as Budapest in Hungary, Rome in Italy, Warsaw in Poland or Vienna in Austria.
As you hop on this aircraft, you'll find the cockpit on the left and galley on the right. The Falcon 2000LX's galley is filled with small appliances and materials to freshly prepare your food. These include a microwave oven, fridge or cooler, plus a coffee machine with espresso maker. To make the most of your upcoming flight, it's best to inquire about its facilities with your operator. Know more about the specifications of the Falcon 2000LX, and charter for your very own flight today.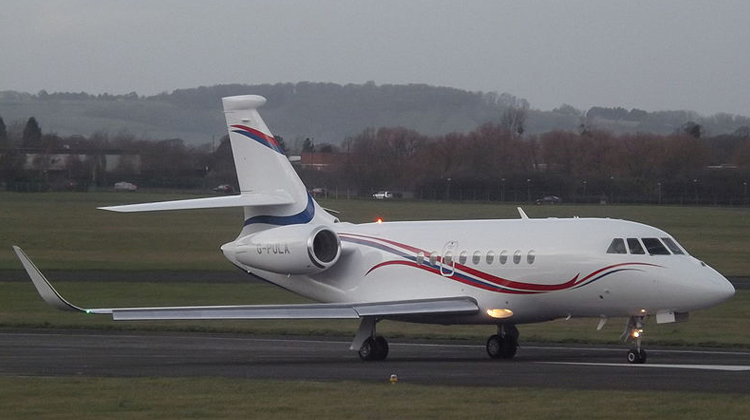 Photo Credit: James from Cheltenham, Gloucestershire
Sleek and Refined Interiors
As you hop on the Falcon 2000LX, you'll find this aircraft has a stylish look to it. With smooth finishes and clean lines of passenger seats, travelers can feel free to sit back, relax and simply enjoy their flight. The plane's interiors also give off a spacious look, while you may opt to recline or pivot your own chair. Below your window, you can find a pull out table which can be used to relish your meals. Throughout your trip, you can also enjoy the shows you'll watch on the small panel provided for each seat. Each customized, in-flight entertainment system per plane may vary thus to reiterate, it's always best to inquire about your aircraft's details from the operator.
Have a look through these interior details, so you may have a better idea of what flying on the Falcon 2000LX would be like:
Can seat up to 10 passengers
Height of Interior: 1.88 meters
Width of Interior: 2.34 meters
Capacity for Luggage: 131 cubic feet
Did you also know the Falcon 2000LX has one of the most spacious luggage allowances? This aircraft lets you then bring more of your essentials, so you can fully maximize your upcoming trip.
Competitive Paces for International Flights
Upon taking off, the Falcon 2000LX can reach its highest altitude in less than just 20 minutes. Given its range, you also have a lot of landing options to choose from. If you'll happen to maximize the Falcon 2000LX's flying range, it would also be safe to inquire about its allowable passenger count with the operator. It's also important to know how much cargo load it allows in reference to your intended location. Generally, a lighter aircraft can fly you to farther destinations within much faster paces.
These performance specifications can be further telling of how fast and far the Falcon 2000LX can go:
Speed: 441 knots (kts) or nautical miles per hour (nm)
Range: 4,000 nautical miles or 7,408 kilometers
Maximum Altitude: 41,000 feet
Climbing Rate: 2,300 feet per minute
Background Information
Manufactured by Dassault Aviation, the Falcon 2000LX is part of the Dassault Falcon 2000 series. It had 4 earlier versions, and this particular aircraft was built with improved range, to fly passengers to much farther distances. Today, this aircraft is being used for executive flying purposes.
If you're taking on an international flight soon, it would be more stylish and convenient to do so when on board the private Falcon 2000LX. This aircraft simply has the refined interiors and performance efficiencies to ensure you'll highly enjoy your flight. See our system below and get your very own live quote today: