Looking for spaciousness and comfort when it comes to traveling? Then you can rely on the Fokker 50 to bring you the interior comforts you'll need in a plane. This aircraft has a space equivalent to 50 passenger seats, thus one can only imagine the many amenities which may be placed in its cabins. As one of its standard features, a private charter on board the Fokker F50 includes WiFi connection. This allows for you to stay in touch with friends, family and professional networks.
The Fokker F50 also has its own, customized in-flight entertainment features. It would also be best to inquire about their specifications from your operator, so you can make the most of your flight. An updated version of this aircraft also includes a galley to store and prepare your refreshments. With finely prepared food and drinks, you'll all the more have an enjoyable, one-hour flight while on board the Fokker F50. Know more about this aircraft's specifications and book for your very own, private flight today.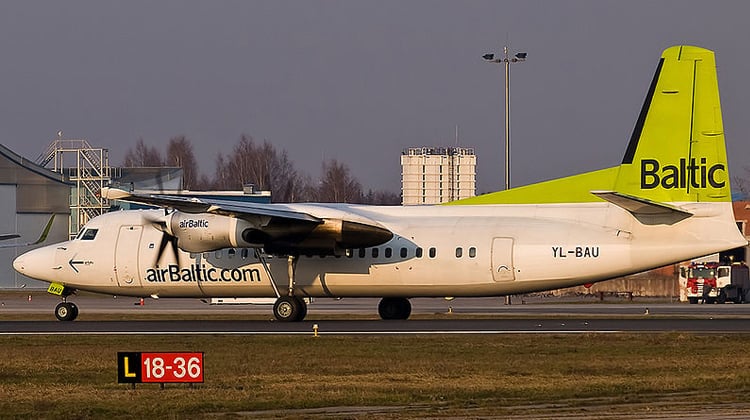 Photo Credit: Aleksandrs Samuilovs
Convenience in an Aircraft
Throughout your flight, the Fokker F50 allows for you to stretch out your feet and relax with its passenger seats' lengthy leg room. These seats can also be reclined. You may even enjoy the plane's in-flight entertainment features, depending on what your operator has initially laid out. An upgraded version of the aircraft would have a functional galley where your snacks will be stored and prepared. Small appliances may also be included such as a microwave oven, fridge or coffee maker. These will be based on the plane's exact specifications.
A look through these interior details can be telling of how enjoyable and convenient a ride on the Fokker F50 can get:
Space is equivalent to 58 passengers
Height of Interior: 1.96 meters
Width of Interior: 2.5 meters
Maximum Take Off Weight (MTOW): 43,980 pounds
Since the aircraft does not have a separate compartment for luggage, you may also inquire about the cabin's specifications with its compartments. This way, you may gauge what to bring and which bags can best be used to store your items inside the plane.
Steady Flights on Short Haul Destinations
With the Fokker F50's steady speed, you'll be sure to have an enjoyable trip. This classic aircraft may have a much lower speed than most planes, but it can surely offer steady rides to take you on regional trips. These performance details can be telling of how fast and far the Fokker F50 can go:
Speed: 240 knots (kts) or nautical miles per hour (nm)
Range: 1,100 nautical miles or 2,037 kilometers
Maximum Altitude: 25,000 feet
If you will be flying from Toronto, the Fokker F50 lets your reach as far as Newfoundland and Labrador. You can even go on short range flights on board this plane, as it has the capacity for you to reach Florida, USA. To make the most of your flight plan, be sure to inquire about the plane's allowable load of passengers and baggage with your operator.
Background Information
Manufactured by a Netherlands-based company Fokker, the Fokker F50 witnessed its first flight in 1985. It currently has over 200 units built and being flown around the world, with a combination of civilian and military operators. During its early stages of development, this aircraft had an incorporation of the latest Pratt & Whitney Canada turbo props at the time. These led to enhanced performance with speed and agility.
If you're planning up a regional trip soon, it would be a great idea to charter for a private service on board the Fokker F50. See our live system below and get your very own live quote today: