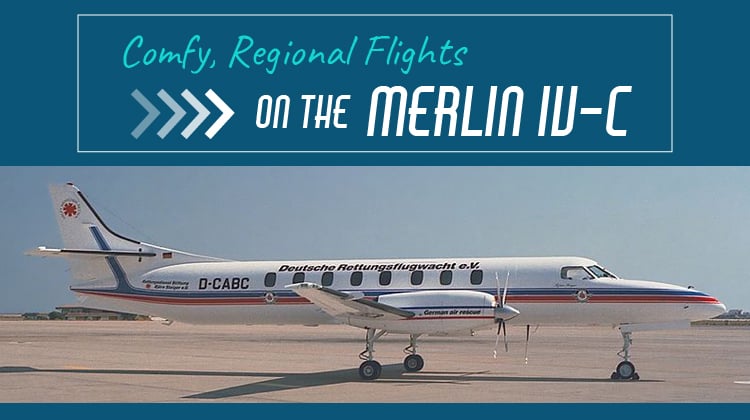 Going to a regional conference or perhaps you're planning up a nearby, international vacation? Then chartering for a private Merlin IV-C would be the comfy option. This aircraft has the interior details to ensure you'll have an equally productive and relaxing flight. Its standard format has an executive look to it, plus its pressurized cabin will ensure you'll be flying with comfort and ease. Did you know the Merlin IV-C also has Short Take Off and Landing (STOL) capacities? This means you will have more options for airports to fly from and land to. You can even choose to reach airports which are nearest your intended venue.
Additionally, an updated version of the Merlin IV-C will include a WiFi connection so you can stay connected with your friends, family and professional networks. You can even read through your emails, update your cloud based files and coordinate with your team using an online project management app. Know more about the specifications of this aircraft to book your very own, private flight today.
Photo Credit: Pedro Aragão
Cozy and Convenient Interiors
As you hop on the Merlin IV-C, you'll find this aircraft has a layout with stylish combinations of standard passenger seats and divans. Each passenger seat can be reclined and has a table which can be pulled out from the window side. This table is used for relishing meals, snacks or drinks. The same table may also be transformed into a platform for your laptop. This way, you may carry on with some details in relation to your business's projects.
These interior specifications can be further telling of how convenient your flight on the Merlin IV-C can get:
Space is equivalent to 19 passenger seats
Height of Interior: 1.5 meters
Width of Interior: 1.57 meters
Capacity for Luggage: 143 cubic feet
Maximum Take Off Weight (MTOW): 13,230 pounds
Steady Glides for Regional Destinations
Given the Merlin IV-C's altitude and speed, you can have quite an enjoyable flight as you fly by landscapes, mountains and bodies of water. Look out the window and you'll get to appreciate more of the plane's aerial views since it doesn't fly way too high. If you're coming from Toronto, Canada, the farthest you can reach on this aircraft would be Newfoundland and Labrador, Wyoming, USA or Nassau, Bahamas.
Have a look through these interior details, so you may gauge how fast and far this aircraft can go:
Speed: 278 knots (kts) or nautical miles per hour (nm)
Range: 1,150 nautical miles or 2,129 kilometers
Maximum Altitude: 27,000 feet
Approximate Climbing Rate: 2,650 feet per minute
Will you also happen to maximize the range of this aircraft? Then it would be advisable to inquire about its allowable passenger count and luggage weight from the operator. In reference to your routes, flight plan and intended location, a much lighter aircraft leads you to farther destination at the fastest paces possible.
Background Information
Manufactured by Fairchild Aircraft, the Merlin IV-C is part of the SA226 and SA227 series which has 10 variants. Each variant has been specifically developed to fit different civil and military applications. Particularly, the Merlin IV-C was built to serve executive purposes which explains its corporate-inspired customized set up.
Will you be flying to a regional conference or for a vacation? Then the private Merlin IV-C would be one ideal aircraft to meet your travel requirements. It has the interior features and performance competencies to ensure you'll have a comfortable flight to your intended location. Book your very own flight on this aircraft by seeing our system below and getting a live quote today: