If you're travelling internationally, the Falcon 900LX can provide you with the features you'll need to comfortably reach your destination. The Falcon 900LX's long-range flying capabilities lets you have more options in flight planning. So far, this aircraft is one of the best choices which private jet flyers can ride on. With its tri-jet configuration and spacious cabins, you'll be sure to reach Beijing, Tokyo and many other international destinations in the coziest ways possible.
Since its introduction by Dassault Aviation, a lot of improvements were applied to the Falcon 900LX. Along with its winglets, the aircraft manufacturer has made sure the Falcon 900LX can jumpstart on short runways, high altitudes and even hot weathers. This plane is certainly the perfect choice if you'd like to reach some parts of Asia or Australia. It even has a spacious cabin, so you can fly along with your business partners without having to worry about a lack of baggage compartments.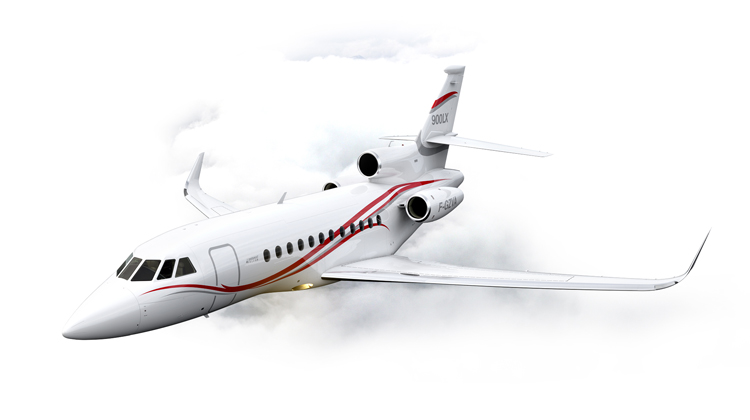 Photo Credit: Dassault Falcon Jet Corp.
Spacious, Cozy and Convenient
The Falcon 900LX can carry 8 to 12 people in every flight. For international travels, it's best to secure the services of 2 cabin crews to attend to your needs. This aircraft has a galley for food preparation and refreshments. It also has customized in-flight entertainment. However if you'll need to keep your transactions going, the Falcon 900LX's fuselage has spacious meeting areas for brainstorming and other types of strategic sessions. Here are some of the aircraft's specifications, to give you an idea about its level of convenience:
Height of Interior: 1.88 meters
Width of Interior: 2.34 meters
Luggage Capacity: 127 cubic feet
Maximum Headroom: 6.17 feet
Maximum Internal Width: 7.67 feet
Did you know the Falcon 900LX has improved and advanced its acoustical features? With its new sound insulation components, your cabin's noise levels are greatly reduced. Its quiet interiors are certainly conducive for meetings and rests during a long flight. Additionally, the aircraft's windows are now closely spaced so an abundance of natural light will shine on your cabin's interiors.
Improved Performance for Long Flights
With the introduction of its winglets in 2011 and a third engine component, your medium-sized private Falcon 900LX has the capacity for extended flying ranges. Whenever you deem fit, you may have additional flight planning options or new destinations to reach while on board the aircraft. As a private jet setter, you certainly wouldn't want the unnecessary hassles of connecting flights to land on different locations of your itiniary. This is where the Falcon 900LX's range and speed capacities can precisely fit your needs:
Speed: 447 knots or nautical miles per hour
Range: 4,750 nautical miles or 8,800 kilometers
High Speed Cruise: 479 ktas (Knots True Air Speed)
Long Range Cruise: 426 ktas
Fuel Capacity: 21,000 pounds
The Falcon 900LX can fly on runways with less than 4,000 feet upon departure at sea level, and less than 6,000 feet above sea level. With its improved flying capacities, the aircraft is also known as one of the most fuel efficient, medium-sized jets today. It can even consume roughly a third less fuel, compared to other planes within the same category.
Background Information
The Falcon 900LX was introduced by French international aircraft manufacturer, Dassault Aviation. Since the plane started flying in 1984, over 500 units have already been distributed. So far this aircraft, along with its larger variation the Falcon 7X, is the only one known to have the tri-jet engine technology. Dassault claims they're continuously improving the flying and convenience aspects of the plane for utmost performance.
Planning to travel far and soon? Then secure a private flight aboard the Falcon 900LX. See our system below and get a live quote today.