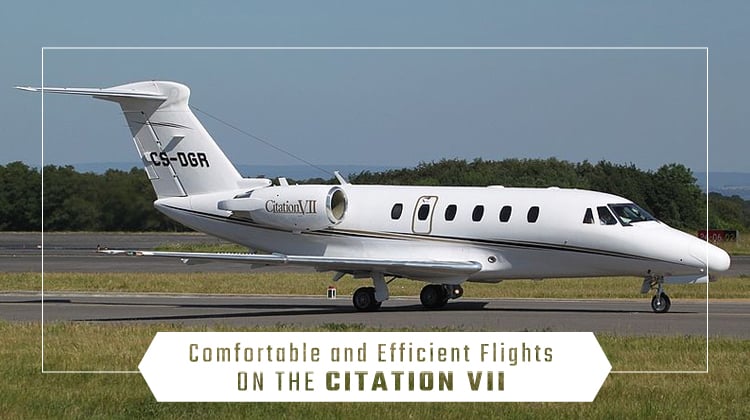 Planning up a mid-range trip soon? Then you'll certainly need to charter for and hop aboard the Cessna Citation VII. This jet lets you reach as far as Nevada in the USA, San Juan in Puerto Rico or even Greenland, if you're coming from Toronto.  Whether you're going for a business trip or regional vacation, a private trip aboard this plane will surely bring you comfort and efficiency during flights.
The Cessna Citation VII also has luxurious interiors to make sure you'll have a relaxing and even productive flight. Each passenger seat may be reclined, plus it has pull out tables so you can relish your in-flight meals and refreshments. These meals or snacks are prepared at the galley which is filled with small appliances such as a small fridge, microwave oven and coffee maker. Cutlery, wine glasses and other items are also part of the meal and snack preparation area. The Cessna Citation VII's lavatory is usually located at the cabins' rear to further provide comfort for passengers.
For regional trips, know more about the specifications of Cessna Citation VII and book your very own private trip on the jet soon.
Photo Credit: Peter Bakema
Cozy yet Practical Interiors
The Cessna Citation VII's interiors are laid out in such a way where passengers can further stretch out their feet throughout the trip. It passenger seats which can be reclined may also have small, television panels per person. This way, they can watch their favorite shows and movies throughout the flight. If you're going for a business conference, you may use the same pull-out, meal table as your laptop's platform. This way, you can catch up on your emails, organize your documents in the cloud or even prepare your presentation slides while in-flight.
A standard Cessna Citation VII will also have WiFi provision, so you can stay connected with your friends, family and professional networks. It would however be best to confirm the plane's exact interiors and facilities with your chosen operator. This way, you can make the most of your 2-hour flight while on board the Cessna Citation VII.
Interior Specifications:
Can seat up to 8 passengers
Height of Interior: 1.68 meters
Width of Interior: 1.74 meters
Capacity of Luggage Compartment: 57 cubic feet
Maximum Take Off Weight (MTOW): 23,000 pounds
Sturdy Flights on a Top Tier Jet
By scheduling for a private trip on the Cessna Citation VII, you'll find how this '90s made jet has quite a competitive set of performance features. Given a light load, it can fly you to the farthest possible destination at a faster pace. On your next regional vacation, it would be crucial to ask about your operator's allowable number of passengers and weight of baggage. This way, your service can best plot out the ideal routes and schedules of your flight plan, given your target destination and at the lightest load possible.
Have a look through these performance details, so you may gauge the level of flying experience which you'll have with the aircraft:
Speed: 410 knots (kts) and nautical miles per hour (nm)
Range: 1,700 nautical miles or 3,148 kilometers
Maximum Altitude: 51,000 feet
Climbing Rate: 4,442 feet per minute
Background Information
Manufactured by an American company Cessna, the Cessna Citation VII had its first introduction during 1991. It has the Citations III and IV to thank as its predecessors, as the Cessna Citation VII variant was developed to have more powerful engines and other hot and high performance features.
If you're planning to go on a regional trip soon, be sure to charter for a private flight aboard the Cessna Citation VII. See our system below and be sure to get your very own live quote today: