Boeing's series of Next Generation 737s are increasingly sought after and with good reason. Over a hundred businesses from around the world have already purchased the 737s, as the Boeing brand continues to deliver fuel efficient and passenger friendly fleets of aircraft. The Boeing 737-800 was specifically manufactured to accommodate more regional flight travelers with its spacious cabins. Among its unique features are its winglets which reduce drag, hence lessening the need for jet fuel to regulate your speed.
This private jet caters up to 60 passengers and provides more options for in-flight activities. Being on board its flight also means you'll feel comfortable on your seat since it allows for lengthier leg room. Its engines have faster flying capacity along with much wider cruising ranges. You'd also be happy to know how the aircraft has been accommodating green fuels for almost a decade to ensure sustainability during every trip.
Photo Credit: The Boeing Company
Roomier, More Spacious Interiors
Boeing 737-800 allows for more breathing room and additional options for cabin adjustments. You can hold meetings during your flight, lounge around or simply enjoy all the amenities which your private jet offers. This aircraft is also known to have sculpted sidewalls and enhanced inner windows. The windows were originally adjusted to make the sky's views appear larger for passengers to see. The sidewalls were also adjusted to provide a much roomier feel.
Here are more details to give you an idea of how huge this aircraft is:
Can sit up to 60 passengers for luxury trips
Cabin Length: 98.49 feet
Cabin Width: 10.33 feet
Cabin Height: 6.99 feet
Luggage Capacity: 640 cubic feet
Earlier in 2016 Ryanair purchased Boeing 737-800 airplanes so they could introduce the solution to cramped cabins and narrow leg rooms. Their Corporate Jet Hire service allows for companies, travel groups or sports teams to travel while seated in luxurious, leather seats.  The European oriented airline provides champagne and gourmet food, on top of their extra spacious business class seats with a 48-inch pitch. This means passengers can feel free to recline their seats and enjoy about 4-feet's worth of individual, relaxing spaces.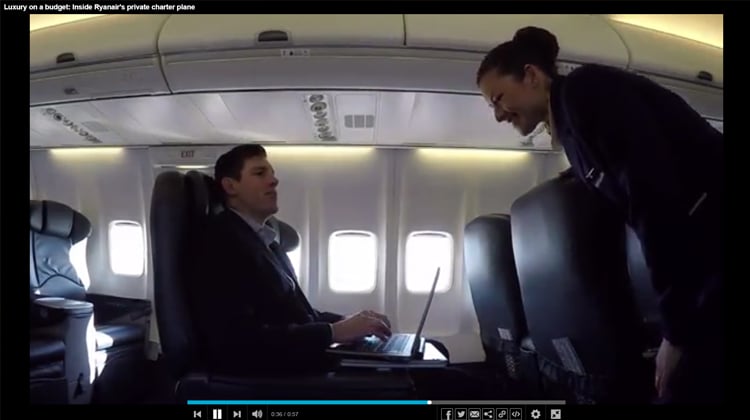 Video Credit: Associated Newspapers Ltd.
Faster Speed and Wider Flying Range
With updated avionics, the Boeing 737-800 is known to fly much faster compared to most turbofan powered and narrow-bodied planes. You can expect for this plane to deliver you with the following flight performance:
Speed: 430 knots or 430 nautical miles per hour
Air Speed: 543 miles per hour
Takeoff Distance: 5,502 feet
Takeoff Speed: 290 kilometers per hour
Landing Speed: 260 kilometers per hour
Cruising Speed: 946 kilometers per hour
Cruising Altitude: 41,000 feet
Manufactured for Eco-Friendliness
As a savvy private jet traveler, it's even more comforting to know how this aircraft includes sustainability as part of its service equation. It's the first to run on biofuel, as it got filled with a combination of Algae and Jatropha oils during its test flight. When flying on a Boeing 737-800 it wouldn't be a bad thing to live it up while saving the atmosphere from Carbon Dioxide emissions.
Interestingly, United Airlines took on an environmentally friendly path by using green fuel to power up its Boeing 737-800 aircraft. They started the efforts since 2011, as the fuels they used were partially sourced from modified algae. They were the first airline company to have a combination of algae-derived fuel and traditional kerosene, in their efforts to reduce carbon footprints.
The Boeing 737-800 continues to thrive in the airline industry. In fact, Panama's Copa Airlines had Boeing 737-800s delivered in 2015, while flydubai had its 50th Next-Generation series sent in the same year.
Planning up a business trip?  Get a live quote and use our quoting system below.