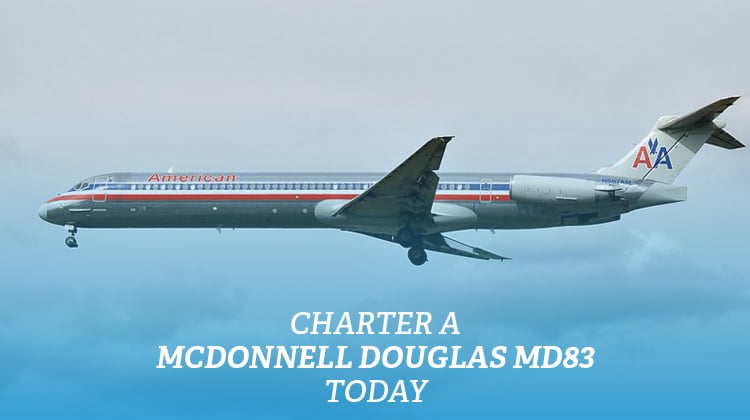 Experience a private ride aboard the most sought after plane of VIP flyers. The McDonnell Douglas MD83 has the facilities you'll need to make sure you'll have a comfortable flight. Also known to commercially fly over a hundred passengers, the luxury version of the MD83 can seat up to 40 people. This aircraft maintains a cozy ambiance fit for regional trips and even meetings with your partners.
Performance-wise, this long range plane has improved engines compared to its earlier counterparts. If you'll need to bring in more luggage during your trip, you'd be glad to know the MD83 has increased its Maximum Takeoff Weight (MTOW) plus it can carry more fuel. This means your flight is even more powered up, with the capacity to run on father distances.
With its luxurious facilities and increased performance capacity, you'll certainly have an enjoyable yet efficient trip when aboard the McDonnell Douglas MD83.
Photo Credit: Eric Salard
Complete In-Flight Facilities and Entertainment
A charter of the McDonnell Douglas MD83 allows for you to enjoy various customized facilities. On its regular, commercial version over 170 passengers may be seated by the plane. However there are luxury trips which can significantly lessen its seating capacity by up to 26%. Now you can enjoy flying privately with your company's staff members for longer trips. You may even travel with your family, friends and loved ones while having the utmost, flying luxury a hotel can provide.
These are just some of the convenient and spacious features which the MD83 can provide you with:
Commercial Seating Capacity: 137 to 172
Luxury Seating Capacity: 40+
Total Cabin Length: 30.78 meters
Height of Interior: 3.1 meters
Width of Interior: 1.96 meters
Capacity for luggage: 900 cubic feet
Facility for food preparation
In-flight entertainment and option for lounges
Includes 2 to 3 lavatories, depending on customization
Best for Short and Medium Range Travels
The MD83 is useful for regional flights. Its main performance features include an increase of weight carrying capacity, improved turbofan engines and allowance for more fuel capacity. It's certainly no wonder why the aircraft is considered as every VIP's reliable travel plane. Here are some performance details to give you an idea on how the McDonnell Douglas MD83 operates:
Speed: 438 knots or 438 nautical miles per hour
Maximum Flying Range: 2,800 nautical miles
Maximum Takeoff Weight (MTOW): 72,575 kilograms
Takeoff Distance: 8,375 feet
Landing Field Length: 5,200 feet
Video Credit: planesguy
If you're taking a regional trip with your staff members, the MD83 should be the ideal plane to reach your destination. You'll certainly have a convenient flight with its maximum luggage capacity, convenient in-flight features and performance capacity.
Background Information
The McDonnell Douglas MD83 was originally introduced during the 1980s. Known as one of the most successful commercial jetliners, it is widely used by top airlines all over the world. As part of the MD80 series, its patron companies include Swissair, Alaska Airlines and American Airlines. It has also come so far since it was recognized to have the first digital-based, flight guidance system.
Since its introduction the MD83 has undergone various upgrades, particularly with its engine. Today, it is designed with 2 rear turbofan engines along with increased wingspan. Its earliest Federal Aviation Administration (FAA) certification was in 1985. Along with its counterparts in the MD80 series, this aircraft is ranked among the top three, highly successful jet airliners in reference to demand and production.
Planning up a business trip with your associates soon? Or perhaps you'd like to travel with your loved ones at the best regional destinations. Either way, don't miss out on the top features which the McDonnell Douglas MD83 can provide. Check out our system below and get a live quote from us.