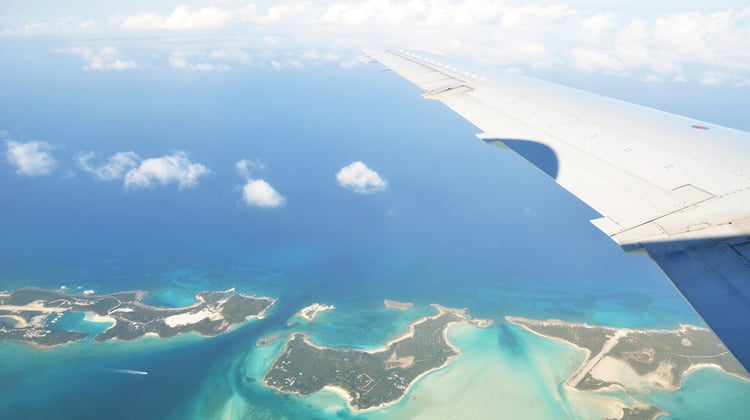 As countries around the world ease their lockdown restrictions and open their borders cautiously, US passport holders find themselves left in the cold.
Some countries are taking a different route. The Bahamas initially imposed a full ban on US travelers. As the months went on, however, the island nation changed its tune.
It seems like private jet charters will play a critical role in keeping tourism economies and the travel industry afloat until the pandemic and related fears totally subside.
Bahamas to Allow Private Jet Charters – Will Other Countries Follow Suit?
In July, Bahamian Prime Minister Hubbert Minnis announced that all commercial flights and vessels except those from the United Kingdom, Canada, and European Union were banned from entering his country.
While Americans were still prohibited, PM Minnis explained that the Bahamas would make an exception for private jet charters. The Prime Minister also pointed out that should COVID-19 cases begin an upward trend, his country would be forced to re-evaluate the border strategy.
Until now, the Bahamas has managed to avoid a widespread COVID-19 outbreak, thankfully.
Demand for private flights has surged in the wake of the global pandemic: up to 75% from last year's spring-summer season. Private charters offer a much safer alternative to commercial flights.
Turkey, Croatia, Maldives, Seychelles, and islands peppering the Caribbean are all open either for all US travelers or strictly those entering through private jet charters.
Some hotels have even started partnering with private jet brokers to streamline the booking process and give the travel industry a much-needed boost.
Private Jet Charters are Good for More Than Leisure Flights
President and CEO of the National Business Aviation Association, Ed Bolen, wrote a letter to the Chicago Sun Times highlighting the importance of private jet charters during this critical time.
Bole explained that private flights will play a significant role in business recovery among entrepreneurs and companies reaching markets where commercial flights are restricted.
Not only that, but private flights have linked important supplies and people at critical moments throughout the pandemic. Many medical personnel are relying on private travel to reach epicenters for crucial work. Supplies are shipped around the country and overseas on private jets as well.
Private flights have also helped with repatriation and medical flights for patients. Jettly, for example, offers a special program for medical charters.
How to Travel Safely with Private Jet Charters
It's much easier to travel in safety with private jet charters. For example, charter flights can leave from and land in low-traffic airports and isolated terminals.
You interact with far fewer people by traveling private too. On the plane, it's just you, your pilot, and whoever you plan to bring – no passengers.
You can circumvent crowded security screenings and passport control lines as well. Plus, no one will handle your luggage except you – unless you request help.
Finally, private jet charters typically run nonstop – even on long routes – so there's no need to wade through crowded airport terminals between flights.
While private travel makes avoiding COVID-19 exposure easier, unregulated or illegal charters pose their own separate risks. It's important to protect yourself.
Read the Fine Print, Membership Requirements, and Fees
Jet cards, fractional ownership, and other programs are designed to squeeze as much money from you as possible. Many of these companies charge outrageous fees for commission, taxes, landing, and even pilot accommodations.
Extras like Wi-Fi and food might be thrown into the bill after the fact – even if you didn't ask for or use them.
Always read the fine print and make sure you know what you're paying for. At Jettly, we never charge any hidden commissions or fees and you only pay for what you request.
Ask for Certifications and Registration
Legal private jet charters are all FAA Part 135 certified. This ensures they've gone through rigorous and ongoing screening for safety and aircraft maintenance.
Illegal charters will brush off requests for their Part 135 certs (because they don't have them) – so always ask assertively.
Likewise, booking through an entity registered under the Travel Industry Council of Ontario ensures you're protected financially in the event of a last-minute cancellation, bankruptcy, or other misfortune. Plus, TICO companies are banned from using maliciously confusing fine print.
Stay Updated on Local Regulations
National and state travel restrictions can change at a moment's notice. Keep yourself updated on the details for your destination and stay in touch with your pilot post-booking your flight.
If Something Feels Off, Don't Book It
If a deal sounds too good to be true, we all know how that typically works out. Illegal charters and scammers write confusing agreements and fine print with malicious intention.
If you don't understand something, ask for clarification via email so it's documented. If something feels "off" or doesn't make sense to you, don't book the flight.
Book Your Private Jet Charters with Confidence
Whether you're a private flight newbie or industry veteran, Jettly offers exactly what you need from a charter. We never charge hidden fees or commission – what you see is what you pay, and you only pay a flat monthly rate. Jettly pilots are all certified through the FAA's strict Part 135 and we're registered with TICO for your protection.
Where will you travel next? Run a search for your ideal route and get your first quote for free!