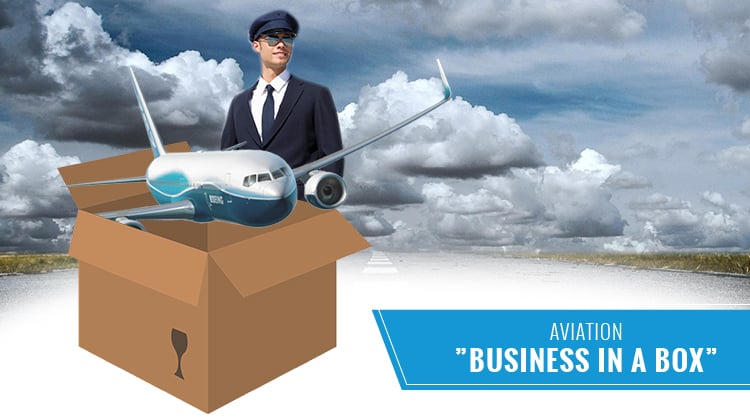 How much do you think it costs to start a small aviation business? Say you're using a Cirrus or Cessna single-engine aircraft for short-haul flight requests from customers. Millions of dollars? Tens of millions?
While most people imagine this pursuit being incredibly expensive, the reality is that it's not nearly as unaffordable as you think. What's more, there are many ways to reduce the costs and expenses associated with launching such a business.
As if that weren't enough, the eventual payout far outweighs the startup cost. Just imagine increased bookings, consistent customer flow, and less time your aircraft spends sitting on the ground.
If you've always imagined starting your own aviation business, but you've never been sure how to take the next step, partnering with Jettly is the smartest possible way to make the leap. Jettly will drive clients to your aviation business and fill its pipeline with charter bookings.
So whether you're a new pilot looking for a way to take your passion to the next level and turn it into a career, or an experienced pilot searching for a way to use your skills to create more freedom in your life, Jettly can help.
Who is Jettly?
Jettly is a private jet charter marketplace that's making a splash in the sharing economy. Designed to provide on-demand private jet charter to customers around the world, Jettly provides a network for pilots to list their empty leg flights and connect with clients who need to go somewhere.
The benefit for clients is that it helps save money on private jet flights. The benefit for pilots is that it drastically reduces the time your planes spend empty and provides a simplified yet consistent stream of travelers that will yield greater revenue.
How to Start an Aviation Business with Jettly: 3 Steps
If you've always been interested in starting your own aviation business, Jettly makes it easy. Here are the steps you'll need to take.
1. Get Your Pilot's License
If you're not already a pilot, the first thing you'll have to do is get your pilot's license. The first step to doing this is to decide which type of aircraft you'd like to fly, as FAA rules differ depending on the desired aircraft. If you'd like to fly with Jettly, you'll likely become either an airplane or helicopter pilot.
You'll also need to consider what type of pilot's license you'd like to get, since the training standards differ depending on the capacity in which you'd like to fly. Once you've made these decisions, you'll need to certify through the FAA. Here are the requirements for first-time pilots:
You must be at least 16 years old.
You must be able to speak, write, and understand English – although exceptions are occasionally made for people who cannot meet one of these requirements due to a medical condition, such as a hearing problem.
You must be in good enough mental and physical condition to operate an aircraft.
You must pass an FAA-issued aeronautical knowledge exam at an approved test center.
Once you obtain your pilot's certificate, it's valid for two years, after which time you must pass a recurrent knowledge test every two years.
The PART 135 FAA Operator Certificate
As you get your operator's certificate, you'll want to think about which type of certificate will work best for your purposes. Likely, that will be a PART 135 FAA operator certificate. PART 135 licenses allow the operator to accept on-demand non-scheduled flight requests and routes, so they're critical if you want to partner with Jettly.
You'll need to partner with your local FSDO to secure your Part 135 Certificate, and the process can be time-consuming. In some cases, it takes three months, in others, it can take years. You'll also need to move through the paperwork required for the certificate, which involves creating a Statement of Compliance, wherein you'll need to list to the applicable FAR and how you intend to comply with the regulation.
After those steps are done, you'll also need to consent to a drug testing program, develop a HazMat carrying training manual, and obtain a secure place to keep your aircraft. You'll also need to develop forms for pilots to log flight time and more. Your maintenance records will need to be perfect to secure and maintain the license.
While obtaining your PART 135 FAA Operator Certificate can be an extensive process, it's well worth it to enjoy the freedom and control the license offers.
2. Secure an Aircraft
The next step is to get yourself an aircraft to fly. If you want to purchase an aircraft, the options are virtually limitless. Because of cost concerns, however, many would-be pilots choose to lease an aircraft, instead. In addition to being a more cost-effective way to secure an aircraft, leasing can also help reduce the expenses associated with flying and make earning a profit easier to do.
In the world of leasing, there are two different options: wet and dry leases. In a wet lease, the owner of the aircraft pays for the fuel used and provides a crew with the rental agreement. In a dry lease, the person flying or managing the aircraft pays for its fuel and crew.
Depending on the lease agreement you work out with an aircraft owner, you may also be required to pay for maintenance and insurance of the aircraft, which are both expenses that should be considered as you develop the initial budget for your startup aviation business.
Aircraft leases are regulated by the FAA to ensure proper protocol and use of the aircraft.
If you'd prefer to purchase an aircraft, the first step will be to determine your budget. If you overspend on your plane, you'll find that it's tough to make up that money with your aviation business down the road. Set a budget and stick to it. Aircraft ownership comes with dozens of auxiliary costs outside the flat cost of the plane, so you'll need to take those into consideration, as well.
After you purchase the aircraft, you'll also have to think about insuring it. Not having aircraft insurance simply isn't an option, and one of the first steps in aircraft ownership will be to decide how much coverage you need and how best to get it. While it's true that aircraft insurance can be expensive, it can also save you from losing everything if the unexpected happens.
With this in mind, you'll need to ensure you're getting adequate coverage that looks at the cost of your plane and its intended use. Talk to an insurance specialist to ensure you're getting the best possible deal.
3. Start Operating Your Charter Service
While running a charter service on your own can be difficult, operating one through Jettly doesn't require nearly as much guesswork. Jettly's mission is to make private jet charter luxurious, simple, and fast. Instead of forcing you to wait for customers to come your way, Jettly makes it easy to be inundated with flight requests through the simple Jettly Gigs marketplace.
In this way, Jettly makes it easy to partner with all local air operations, reinvigorate the aviation industry (which is dying), and create a new network of entrepreneurs. This system is built by a team of small single engine propeller aircrafts, owned and managed by air operators and pilots who love to fly, but don't have the "Expedia"-sized marketing team to back the venture.
One of the most unique benefits of the Jettly marketplace is that it allows you to open your empty leg flights up for sale, and have them filled quicker than you ever thought possible. This saves you money when your plane would otherwise be sitting on the ground and makes it easier to run a profitable aviation business from anywhere.
Jettly Gigs is becoming the small charter operator's dream, and central booking platform for short haul "air-taxi" flights just like Expedia became the central booking platform for traditional commercial air travel. Luckily for you, Jettly networks with existing pilots and operators to help you drive customers and secure more business. If you're interested in exploring other options as a pilot, check out the Jettly Gigs network, where you can post a gig (flight route) and attract customers from your local area.
The Benefits and Drawbacks of Running an Aviation Business
Wondering if an aviation business is right for you? Here are some of the primary advantages and drawbacks:
Benefits
The advantages of running a small aviation business are many:
Profit. Profit is first and foremost when it comes to the decision to run your own private aviation business. One of the largest benefits of this move, the profits from a small aviation business have the potential to be very large. While there are expenses associated with starting up an airline business, the potential for payback is massive. This is particularly the case when you partner with a platform like Jettly, which specializes in helping pilots meet their goals and secure a consistent stream of clients. If you're interested in ways to obtain more profit, consider leasing rather than owning an aircraft to run your aviation business.
Freedom. Jettly is part of the sharing economy, which means you have the freedom to work when and where you want and determine your schedule. While Jettly will help you fill your flights as often as you want, it's up to you to decide what your working life looks like. This, in turn, gives you the freedom you want to spend more time with family, see the world, or pursue other investments. Flying with Jettly also allows you to access clients that you normally wouldn't be able to find (since they wouldn't otherwise be in the private jet market), which contributes to more interesting and diverse flight experiences and a more satisfying career.
Experience. Jettly makes it easy to travel the world and meet interesting people along the way. Experience world-class culinary and cultural events and do it all on your schedule. Few other jobs offer such perks, and it's easy to see why so many people have chosen to go this route with their careers.
Drawbacks
The biggest drawbacks of running your own aviation business are:
Time. Multitasking is critical if you want to run a successful aviation business. Unlike other careers, where you get to play one primary role, running an aviation business requires you to wear many hats. This includes thinking about equipment, salaries, rentals, accounting, payroll, insurance, maintenance, and more. While this is indeed a heavy load, most pilots agree that it's well worth it for the freedom and independence their lives as private pilots offer. Still, it's important to plan for the time drain an aviation business will be and to make arrangements accordingly, so you don't burn out prematurely.
Cost. The costs associated with getting an aviation business off the ground can be intimidating, and they're enough to make many people balk. With this in mind, you'll need to plan for costs and find ways to decrease your expenses. This means choosing the right partners, making smart decisions when it comes to obtaining your aircraft, and learning to work with less in the areas where it's possible. Once you start making a steady flow of income, the financial concerns of getting the business off the ground ease up.
Adaptability. Running an aviation business requires you to be adaptable. If you're not willing to bend, you're going to break. With this in mind, you'll need to partner with the right marketplace, like Jettly, to optimize your flight schedule, fill your empty legs, find creative solutions to common flight problems, and help launch your career. Flexibility is key here, and you'll conclude that the pilots who are the most flexible are the ones who succeed in the most pronounced ways.
A Team Mentality. In the days of the sharing economy, no pilot is an island. This means that learning to work together with other aircraft operators, customers, passengers, and planners is essential. The more willing you are to partner with the people around you, the more successful your business will be.
Your Ticket to Freedom: Your Own Aviation Business
Let's face it: nobody wants to spend their lives working from a cubicle. Today, skilled, adventurous people from around the world are turning to alternatives that allow them to do what they love, explore the world while they're at it, and work with like-minded individuals.
Jettly is just one way to make this dream come true. A revolutionary marketplace that connects pilots and customers, Jettly extends the experience of private flight to everyone and simplifies the process of filling empty legs (for pilots) and finding shared flights (for passengers).
If you've always dreamed of starting your own aviation business, Jettly is the perfect place to start. Designed to help entrepreneurial pilots realize their dreams of freedom, self-reliance, and adventure, Jettly is a fantastic go-to for anyone who's always dreamed of owning their own flight business but didn't think they could ever make it happen.
From the simple platform to the consistent influx of customers, Jettly will make it easy for you to get your flight business off the ground and start planning for your new life now.
To learn more about Jettly Gigs, or to find out more about our opportunities for pilots, contact us today!