When we talk about World War 1, there's usually a myriad of unpleasant memories that come with it. After all, one could say that it's the epitome of needless wars, with no black or white repercussions. On a stranger note, however, it's also been a ground for some well-known aviation breakthroughs, like the creation of the jet engine and easier aircraft maneuvering. After all, in a time where those with the best military advancements win, one could imagine that the aviation engineers of the time had much too much to contend with. And often, adversity can bring about exciting innovations.
That said, let's delve a bit into aviation history and look at how facets of modern aircraft have been influenced by the first World War:
The creation of sturdier aircraft
When war aircraft came in during WW1, they were as rudimentary as you would think they'd be. After all, it was only a little after a decade before that the Wright Brothers created the first operational aircraft according to BBC. Many of these early models required a lot of manual work, with bombs being dropped by hand and aviators firing at each other as they would do on the ground. Aircraft during this period also wasn't speedy, as the jet engine had not been invented yet and most people had to rely on propellers.
Eventually, as the need to gain control of the skies became increasingly apparent, so did the modifications to the aircraft. Shooting at the enemy while flying, for instance, often yielded weak results. Some forces, like the French, had been able to find a way to fit in machine guns while on a plane, thus enabling them to shoot down the enemy quickly. This would eventually trigger a need to build aircraft that could withstand such firepower, and perhaps become the takeoff point for modern safety measures as well.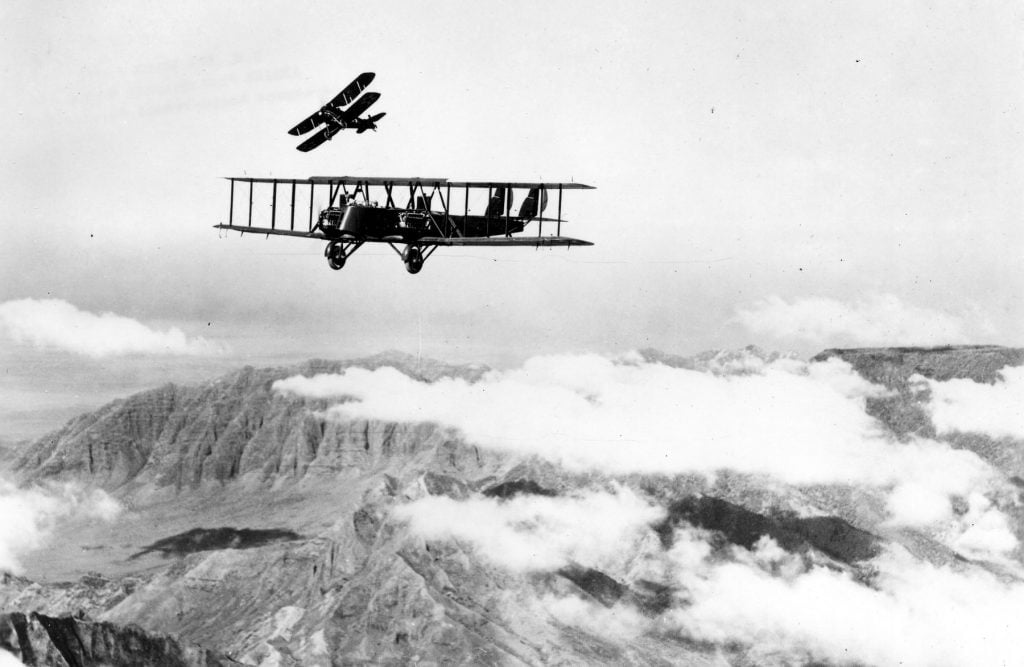 Longer and faster flights
Before World War 1, early aircraft was known to only be able to travel short distances. And as such, aviation pioneers have made the long-haul flight a meticulous project, often involving contests that seek to attract innovators who could make it possible. One of the more outstanding achievements is that of French aviator Louis Blériot, who was responsible for the first English Channel crossing by air in 1909.
This capability was particularly sought after in military aviation, as this meant that opposing forces could head into enemy territory more freely than via land and sea. This also bode well for reconnaissance missions, as the ability to cross national borders helped with spotting enemy movement from the skies, albeit sometimes erroneous in nature.
It was also during the first World War that there had been an up-spike in car engine manufacturers providing engines for military aircraft, paving the way for improvements in that field. One such example is the development of the Liberty engines, which were designed to help out the American aircraft industry as tensions began to grow during the start of the war and America's involvement seemed to loom closer.
Be updated on the latest aviation news now
Whether it's a significant history tidbit or the newest piece of news, Jettly's here to provide you with the best and latest right in your inboxes. After all, we believe that the right decisions are informed ones, especially when it comes to your aviation options. That said, make your choice count and charter a flight with us. Aside from offering competitive prices, we also make sure you arrive at your destination in style and comfort. Book a flight request now.