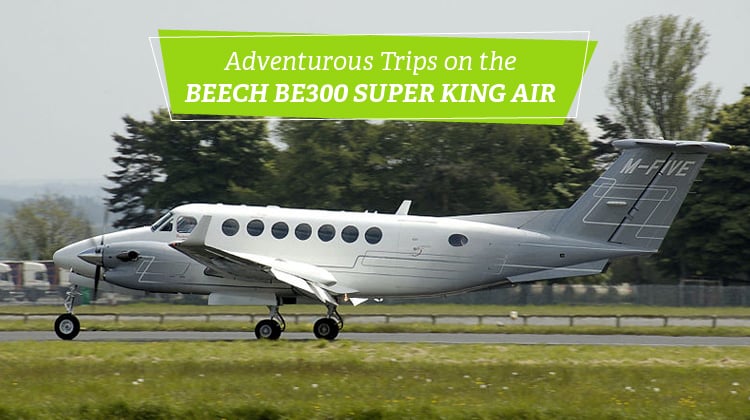 Planning to go on an ultimate rock climbing expedition? Or perhaps you're itching to put on your ski boots and try more challenging drills on the slopes.  To reach your intended destination fast, hopping aboard a private Beech BE300 Super King Air would be best. This aircraft is perfect for adventurers on a getaway or even to busy bees who are looking for the fastest ways to reach meeting venues. This aircraft has an 8-passenger seating capacity. Additionally, its standard features usually include a WiFi connection so you can stay in touch with your friends, loved ones and professional networks.
On this plane, you can fly as far as Alberta, Utah in the USA and Cancun in Mexico if you're departing from Toronto. Did you know the Beech BE300 Super King Air can also get agile on shorter-than-usual runways? This means you can choose more remote or less crowded, yet smaller airports, so you can arrive much nearer your intended location. Know more about the Beech BE300 Super King Air's specifications and schedule for your very own, private flight today.
Photo Credit: Adrian Pingstone
Comfy, Convenient and Entertaining Seats
Upon hopping on board the Beech BE300 Super King Air, you'll first notice how the seats were updated to provide comfort among passengers. Its standard interiors would include seats which can be reclined, plus tables which can be pulled out for enjoying your snacks. During the next 2 hours of your flight, you may want to make sure you'll stay updated and on top of your business's projects. In this situation, you can use the same pull out and foldable table as your laptop's platform for answering emails and organizing you cloud based documents.
To give you an idea of how much enjoyment you'll experience on board the Beech BE300 Super King Air, have a look through these specifications:
Can seat up to 8 passengers
Height of Interior: 1.78 meters
Width of Interior: 1.4 meters
Capacity for Luggage: 59 cubic feet
Maximum Take Off Weight (MTOW): 14,000 pounds
Agile and Sturdy Flying Paces
The Beech BE300 Super King Air can definitely fly from or to shorter runways. This is definitely the best possible aircraft if you'd like to reach an airport near your skiing lodge. Or perhaps if you'd like to directly reach an island without having to ride on a boat, you may book a flight on this aircraft.
Have a read through these details, for a better idea of how well, fast and far the Beech BE300 Super King Air can fly:
Speed: 226 knots (kts) or nautical miles per hour (nm)
Range: 1,500 nautical miles or 2,778 kilometers
Maximum Altitude: 35,000 feet
Climbing Rate: 2,844 feet per minute
The Beech BE300 Super King Air can reach its maximum altitude within just 12 minutes. This fact is quite telling of how fast you can fly on this plane. Given a specific, intended location, it's necessary for you to confirm the number of passengers flying with you plus your luggage weight. This way, your operator can jot down the best possible routes and schedules of your flight. Keep in mind, a lighter aircraft allows for you to reach farther destinations at much faster rates.
Background Information
Manufactured by the Textron Aviation (formerly known as Beech Aircraft Corporation), the Beech BE300 Super King Air is among Beechcraft Super King's 18 variants. Among its aircraft comrades, this plane has a combination of civil and military operators from over 45 countries.
If you're planning for a regional adventure, the Beech BE300 Super King Air is the practical and convenient choice on your trip. See our system below and get your very own live quote today: