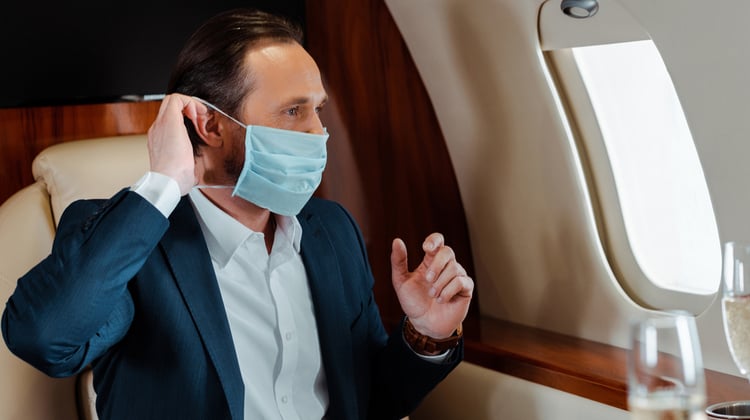 When it comes to flying, safety is always THE top priority.
It's easy for commercial airlines to support improved security screenings, baggage inspections, and customs enforcement.
Those safety measures don't cut into an airline's bottom line.
COVID-19? That's another story entirely.
The best social distancing measures – like limiting ticket sales – cut directly into a commercial airline's revenue. With travel demand already down and sweeping layoffs, commercial airlines aren't exactly thrilled about the idea of selling fewer seats.
That's why the demand for private jet charters has skyrocketed over the past few months.
Why Should You Choose Private Jet Charters During COVID-19?
Flying private means you interact with fewer people overall and touch far fewer surfaces. Plus, your pilot can keep you posted on the dynamic rules and regulations at your target destination.
1. You Can Avoid Crowded Air Terminals
Commercial flying poses a huge risk during COVID-19 – especially long-haul international flights with layovers.
Inside the airport, you must navigate your way through crowded terminals and thoroughfares with people from countries across the world.
Private jets, on the other hand, use their own terminals called fixed-base operators. These terminals are smaller than your typical commercial variety.
Instead of crowded gates with dozens of passengers sitting around, you can relax in private lounges as you wait for your plane – you might even get to walk right onto the plane as soon as you arrive!
In many cases, you can avoid the terminal entirely by driving right up to the plane's entrance and hopping into a vehicle as soon as you land at your destination.
2. Social Distancing is Easier with Private Jet Charters
On a private flight, you only interact with a handful of people: Whoever you bring with you, your pilot, and minimal staff on the plane.
You don't have to worry about dozens of other passengers flying while sick or pulling their masks down.
Flying is a dangerous activity during a pandemic due to the enclosed space and recirculated air. Private jet charters slash the risk.
3. Private Jet Charters Can Land in Remote Areas Outside Pandemic Hotspots
If there's a usable runway, your pilot can land there.
Commercial flying means you're stuck flying into and out of traditional airports. Not only are commercial airport locations inconvenient, but many are also in pandemic epicenters.
Private pilots are more than happy to land at more remote airports outside the city so you can avoid virus hotspots in crowded cities.
4. You Can Skip Bumper-to-Bumper Security Screening and Custom Checks
Commercial flying creates the perfect recipe for spreading a virus.
Security screening and custom checks involve waiting in long lines with dozens – if not hundreds – of other passengers.
Those plastic bins turn into germ bombs and your belongings must touch the same surfaces hundreds of other passengers have touched that day.
When you fly private, you can keep your shoes on and completely avoid the invasive security screenings. Customs usually involves one officer boarding your plane or a one-on-one encounter in a private room – no long lines.
5. Fewer People Will Touch Your Luggage
Once you check your bags on a commercial flight, you have no idea who handles it. In fact, almost a dozen people could carry, move, or even open your baggage to inspect it on a single commercial flight.
Private charter jets smash this number. Only one or two people will touch your bags: a service technician and the pilot.
If you want, you can even handle your baggage yourself!
That's the beauty of flying private: You're in complete control.
6. Nonstop Flights Lower Your Exposure Risk from Layovers
Layovers pose a huge risk during a pandemic.
Stepping off a commercial flight and into an international airport filled with hundreds of people from around the world increases your risk of infection exponentially.
Many new types of private jets can fly the same long distances nonstop without refueling.
Removing layovers from the equation keeps your infection risk low.
Overall, you'll stay in a mostly controlled environment throughout your entire journey and reduce the time spent in uncontrolled environments.
7. Your Pilot is Also Human and Wants to Stay Safe
Nothing is constant right now. Local regulations and quarantine requirements can change at a moment's notice.
Your pilot is an industry insider. They can keep you updated on safety best practices and requirements for when you arrive at your destination.
For example, you can coordinate your preferred airports with your pilot directly and work out the best plan of action as things change. You can also talk with them about any concerns or questions you have about the flight process.
Your pilot is human and they want to stay safe as well. They'll never put you at risk just to make a quick buck like many commercial airlines seem to be doing.
Start Your Journey Now
At Jettly, the safety of our pilots, crew, and passengers is always our utmost priority. We're monitoring all the dynamic industry changes for every destination to adapt as needed for everyone's safety.
As always, Jettly only works with the best operators in the industry certified by ARGUS.
Start a flight search for your destination now and request your free quote!