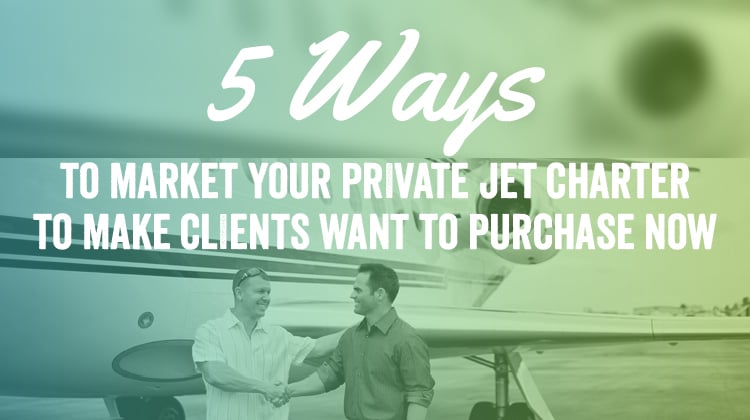 For a business most commonly known as a luxury service – but at the same time trying to reach a wider audience – it's not always easy to determine the best way to sell. Especially if you're on a tight budget and can't splurge on a large and extended ad campaign, you have to have a keen eye for your service's selling points and make the most of it.
Below we look at a few ideas for the directions in which you can take your marketing efforts.
Advertise the destinations.
Examine the possibilities with your aircraft and see if certain destinations can be a selling point. For example, find a luxury vacation spot that you can fly to, and leverage the appeal of the place, coupled with the private jet flight, to sell the experience. Furthermore, try to contact resorts and hotels in popular destinations to see if you can arrange an exchange deal for promotion.
Promote your service to companies.
For companies that occasionally have the need for group travel – be it for company vacations, seminars, or trade shows – flying by private jet charter might, in fact, be more cost-effective (and is far less hassle) than buying separate seats on a commercial flight. Use this angle when you reach out to local businesses that might be interested.
Find out what you can offer that airlines can't.
Examine the available airlines and schedules in your city. It's possible that for certain attractive destinations, direct flights aren't possible, or are inconveniently scheduled. Use this to your advantage.
Try to form an exchange deal with suppliers that are in line with your brand.
Is there a good, popular restaurant in town that can cater to your in-flight food requirements? One that fits your company's image, and would elicit positive reactions from your clientele when they realize that it's what you serve on your flights? Try to build a partnership with that restaurant. Agree to make them the exclusive in-flight catering service of your jet charter company, and create joint advertisements.
You can do the same with other suppliers of luxury products or services, such as beverage distributors and importers, cabin interior designers, and furniture makers.
Keep an eye out for events.
You might be based in a city with a large expo center that holds important trade fairs and conferences. Or, perhaps you fly to destinations with popular festivals, international competitions, and events. Keep track of this, and whenever possible, use these in your marketing campaigns. Try to learn how quickly commercial flights for these events sell out, and find an opportunity there.
You can also contact the organizers of these events to see if they might need to hire you directly to fly their VIPs to and from the venue.