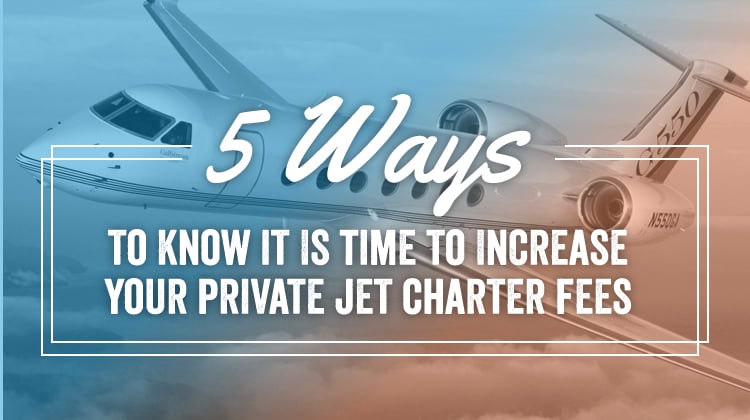 For any service business, raising your prices can be tricky: it's necessary to ensure decent profit margins, but there's a risk of losing customers if you do it too much or at the wrong times. Here are several ways to know when it's the right time to bump up those rates.
1. There's an upward trend in fuel prices.
Fuel is one of your largest operating costs, so it's no surprise that you will at certain points have to increase your rates entirely because of it. In some cases, it might not be worth it to charge more for fuel price fluctuations, but when there is a consistent trend of increase, then it's time to adjust your prices accordingly.
2. You're pricing well below the competition.
Private flight is generally perceived as a luxury service, so it really wouldn't be vital to your marketing efforts to be the lowest-priced in the market. In fact, for some luxury services, communicating low prices could be incongruent with their image and could even have adverse effects.
With this in mind, try to survey the prices of competition in your area; if you find that you are pricing noticeably lower than the rest, while still offering essentially identical services, then look into to turning your rates up.
3. You can add value (and sell it).
Consumers will be much more amenable to paying more when they feel that they are getting more in exchange, rather than being arbitrarily asked for more money. Try to look into low-cost ways you can add value for your customers when you raise your prices; this could be customized food offerings, cabin enhancements, special events planning, or land transportation options at their destination.
4. Aircraft maintenance starts costing more.
Another major operating cost that you can't skimp on is regular maintenance. Keep track of all your invoices – for labor, spare parts, and consumables – and check what percentage of your revenues is being spent on maintenance. If you notice an upward trend, increase your rates.
5. You can offer a tiered pricing scheme.
Tiered pricing is a popular method in which you offer your customer several price options (often three). When raising prices isn't absolutely vital to breaking even, this is one way you can do it without much risk. You can maintain your current prices as the basic tier, then add two or more higher-priced options with value-added services. With this method, you can effectively measure your market's reaction to the new prices.
Alternatively, you can offer your current prices but only to those who purchase a minimum amount of hours (or number of flights) per year, then offer higher rates for one-time purchases.