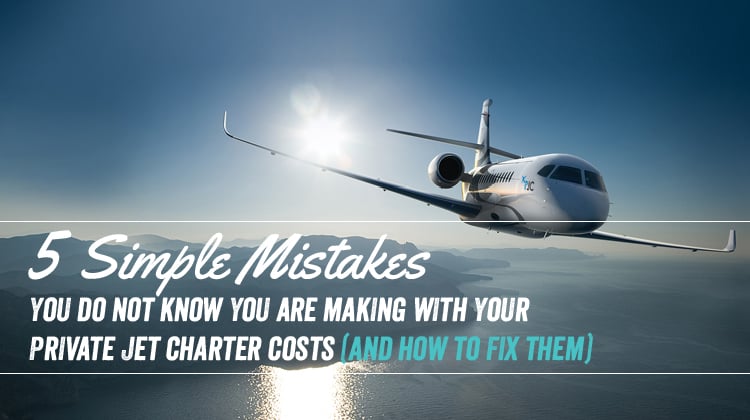 Sometimes, a jet charter business might find itself with higher costs than expected, or with mediocre profits despite seemingly doing very well. In some cases, that may be due to one of several common mistakes people make with their budgets – mistakes that are actually fairly simple to correct.
See if you're guilty of any of the following suboptimal ways of handling your finances:
1. Not working with a dedicated tax attorney.
Running a private aircraft business is complex and costly, and so are the taxes that go with it. There are many lawyers and professionals who claim that they can handle your taxes, but then fall short when the time comes to settle complicated disputes. Hire an attorney with a Master of Laws degree in Taxation (Taxation LLM), and who has a career dedicated to taxation matters.
2. Setting the same budget each month.
Having the same budget every month won't work for a business with so many variable costs. This is especially true for an aircraft business, wherein weather can affect expenses such as fuel, maintenance, and even food options. Instead, make use of accounting software to track the expenditures and create more accurate budget predictions.
3. Failing to pay attention to insurance details.
Don't be complacent about your insurance then end up with the awful situation of finding out too late that you don't have coverage for what you need. Know the limits of your insurance coverage, and know them well. Discuss different scenarios in detail with your broker; keep these details listed down and review them with the relevant members of your staff periodically. Also, check with your insurance broker before signing contracts with third-party maintenance companies or suppliers, lest you void any part of your insurance coverage without knowing.
4. Not going through a comprehensive aircraft evaluation before purchase.
Even if you're purchasing from a friend or someone with whom you've done business before, always make sure you go through the pre-purchase evaluation. Make sure the records of the plane are present and complete and spot any previous repair work that could affect the value of the plane. Not being thorough at this stage could mean you end up with a plane that is costing you more money on repairs than you're making with it.
5. Being too eager to upgrade your aircraft.
It's true that refurbishing your plane could mean you get more value out of it, but exercise discretion in deciding if it's really the right time for it. After all, not only will upgrades cost you money outright, but that will also mean downtime for your plane. Instead, consider planning these refurbishment projects to coincide with scheduled maintenance, or identify times in a year when business is typically slow.