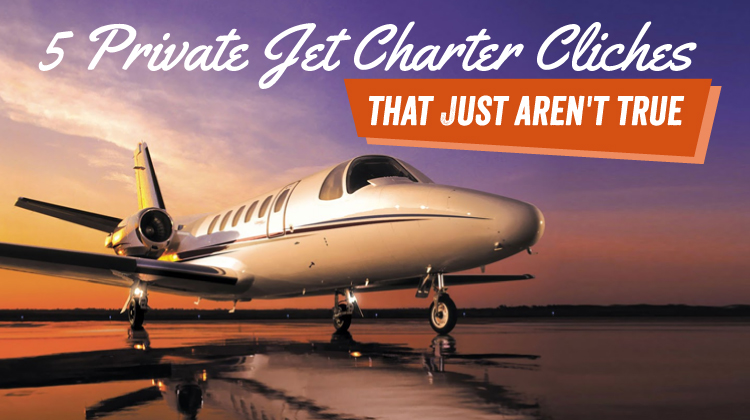 For any business to be successful, there are certain aspects that cannot be compromised on. Unsurprisingly, this is no different in the private jet charter business! While it can be said that clichés exist for a reason, the five that we're going to look at shed some light on major issues for those entering the private jet charter business with the loftiest of dreams.
5 clichés about the private jet charter industry
1. Success is synonymous with private jets: This is not entirely true; there are a lot of bankrupt people who still fly private jets. This point alone demonstrates why it is important to not get carried away if you are planning to become a player in the industry. Just because most of your customers are likely to be high-class individuals, it does not mean you can let practicality slide. Just because it's a massive industry revolving around success doesn't mean that you can assume that success is guaranteed.
2. No risk, no reward: There are many financial risks involved with starting a business, especially for those who may be considering loans and leases. You should ensure that you are taking well-calculated risks and not just jumping on the common phrase "no risk, no reward." This cliché only applies to considered and calculated risks.
3. You can do it if you put your mind to it: Though this phrase does show the strength of the human spirit, it does not mean that your business will be a guaranteed success. This is another cliché that should set off some alarms, especially in the context of the private jet charter industry. Be determined, be wise, and be prepared.
4. It's not rocket science: While running a private jet charter business may not require you to be a rocket scientist, it does require a high level of intelligence. Even if you hire the top professionals in each field to help you, it is still up to you to make the final decision.
5. It is an overhyped enterprise: Everything comes down to execution. The industry is not necessarily overhyped when done properly; in reality, it has created millionaires and even billionaires and is still doing so to date!
These are five misconceptions to steer clear of if you are in the private jet charter business or are planning to enter the industry in some capacity. Consider them before jumping into a new frontier. Remember, knowledge is power!