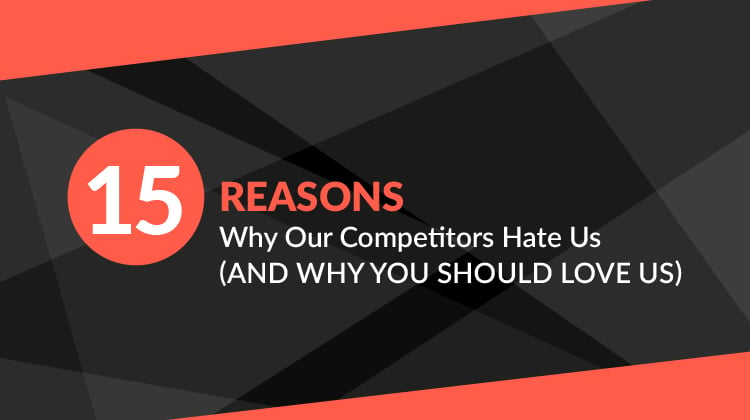 Chartering private jets has never been more affordable and accessible.
However, with several options also comes several issues. How do you know which private jet charter company to choose?
How can you find the best price in a market notorious for hidden fees and surcharges?
At Jettly, we're revolutionizing private air travel. We offer all the same private jets at airports around the world for a fraction of the cost and a flat monthly rate.
When it comes to flexibility, other companies just can't compete with us.
Our competitors hate us, but you'll love us. Here's why.
Why You Should Choose Jettly as Your Private Jet Charter Provider
Our goal is to offer a streamlined process for affordable private air travel. We've removed the bureaucracy and reorganized the operating process. Now, we're passing the savings onto you.
1. We Don't Charge Commission
At Jettly, we charge one flat (and incredibly low) monthly rate for access to our booking service. What does this mean for you as a customer?
Traditional brokers charge hefty commission fees ranging between 30 and 50 percent of your private charter cost. That could potentially tack on nearly $25,000 to your total expense on a single flight.
Jettly, on the other hand, charges nothing for commission. Zero. You get a dedicated personal travel coordinator 24 hours a day for just $370/month and you get wholesale pricing on all charter flights so you never need to shop around (or feel like you're being ripped off) again.
2. Private Jet Ownership Is an Unpredictable Hassle
Sure, the idea of purchasing your own private jet is appealing and might seem like an important status symbol for your successful business.
However, purchasing a private aircraft is a huge investment. Yes, the initial cost is high but you also need to account for logistics, maintenance, repairs, regulations, along with everything else involved with owning and operating an aircraft.
The cost of owning a private jet is unpredictable. Jettly offers predictability and control: you choose your flight costs and monthly rate. We do the rest.
3. We're More Flexible Than Standard Jet Card Programs
Prepaid jet card programs might seem like an attractive option for frequent fliers who want a luxurious travel experience.
Unfortunately, these programs have plenty of downsides. For one thing, most businesses need to fly inconsistently and at unexpected times. With private jet card programs, you're bound to a certain set of flight hours. Don't use up your hours? Be careful because they'll probably expire.
Not to mention: these programs add tons of extra fees and conditions to their fine print.
Jettly offers a different option: you choose your flights. Fly when you want and where you want for a flat rate with no unexpected fees.
4. Avoid the Constraints That Come with Fractional Jet Ownership Programs
Fractional jet ownership programs tout themselves as an affordable and flexible option but in reality, the relationship isn't exactly ideal.
Need a last-minute flight? Good luck with that because most of these programs require at least 24 hours' notice. Forget trying to reschedule or rearrange your flight.
With Jettly, there's no contract and no restrictions: you simply pay one flat monthly rate and choose your flights whenever you please.
5. Jettly Covers All Your Amenities
Most companies tack on exorbitant fees for in-flight culinary services and other comfort amenities. No one wants to pay upwards of $500 for a platter of sandwiches.
Well, you don't have to because Jettly partners with culinary companies around the globe.
We give customers the ability to select culinary options during the checkout process. It costs a fraction of what our competitors charge and it's available at any airport around the world.
Don't want it? You won't pay for it.
6. Did We Mention No Extra Fees?
Zip. Zilch. Nada.
Our competitors hide all kinds of fees in their invoices for overnight crew accommodations, time on the ground, landing, Wi-Fi, and just about anything else you could think of. Before you know it, your jet charter costs three times what you planned.
Our goal is to avoid this completely. You pay a flat monthly rate and select your flight costs. Any extra expenses? Only if you add them on to your purchase.
We won't send you a bill later for things you didn't request or plan in advance.
7. We Offer the Same Jets as Our Competitors for a Straightforward Price
There's a finite number of private charter jets and operators around the globe. This means that everyone – including our competition – taps into the same exact network.
What does this mean for you as a customer? Well, if you're paying anything other than the lowest price possible, you're wasting money. Other companies know that resources are slim so they gouge customers when it comes to prices and extra fees.
We have nearly 10,000 private jets to choose from. These are the same jets available from our competitors. Jettly does something different: we aggregate this same network of flights into one central platform. For you, this means shopping thousands of flights anywhere in the world for one flat rate.
8. Jettly Becomes Your Private Charter Coordinator
Stop paying additional fees for a private aviation coordination. Jettly has a team of specialists dedicated to booking and coordinating your travel.
We offer 24/7 accessibility any day of the year – even holidays – by phone, email, and live chat. Need a flight moved? No problem. Itinerary change? We've got you covered.
Instead of a la carte pricing, you get all of this for a flat monthly rate.
9. We Provide Coordinated Communication with a Personal Touch
Communicating during travel is a pain. With so many options at our disposal, it doesn't have to be this way.
Things are different at Jettly. We understand how important communication is while traveling for business reasons. That's why we offer a private Slack channel or Skype group dedicated to your company's team.
You and your entire team receive on-demand responses from our specialists 24 hours a day, 7 days a week, and 365 days a year.
This provides an intimate connection unprecedented in the private jet charter industry.
10. Earn More with our JET MILES Program
Who doesn't love frequent flier miles? If you consistently travel, these benefits can add up quickly.
Why shouldn't you expect the same rewards from your private charter jet company?
With the Jettly JET MILES program, you can build credits each time you fly a standard charter jet with us. Build $10 in flight credits for every 1,000 miles you fly. Use these credits towards exclusive products and services.
You can even redeem these credits to cover your monthly membership cost. That means you can pay off your monthly flat rate just by flying.
11. No Contract, No Obligation
Only need to fly private once or twice a year? Only pay for the month and flight you need.
Jettly doesn't force you to sign a contract or pay for a year of membership upfront. You can cancel anytime without incurring any penalties or extra fees.
12. Stop Shopping Around and Comparing Flights
We aggregate private flights from across the industry and put them in one convenient location for you.
That means you don't have to shop around looking for the lowest price or the best rates.
Plus, our prices are straightforward: no extra fees or commission. Just pay your monthly flat rate for the service, select your flat rate flight, and get ready to fly!
13. Nationwide Discounts at Tons of Outlets
As a Jettly member, you'll receive special discounts on special events, movie tickets, car rentals, and thousands of premium outlets across the United States and Canada.
Your Jettly membership card grants you access to this exclusive shopping portal.
14. Jettly Offers Unlimited Selection You Won't Find Anywhere Else
Other private jet charter companies have a limited number of aircraft and operators in their fleet. Even if you're going the jet card route, you still have an extremely limited selection when it comes to aircraft types and times.
Jettly puts all worldwide private aircraft in one location and you're free to modify your flight options as much as you choose. Whether you need a single-engine plane or jumbo jet, we've got you covered through the entire process.
15. We Pass the Savings onto You
Our competitors charge the customer extra for air operating fees. This is inconsistent and can quickly jack up the cost of your private flight.
At Jettly, we've rearranged the pricing process and we pass the savings onto our customers. With us, private air travel is more affordable than ever.
Each of our pilots is a member of the Jettly Wingman Program. Their monthly membership fee covers traditional operating costs which means lower costs for you.
Submit a Flight Request with Jettly Today
With Jettly, private air travel has never been more affordable, more accessible, and less convoluted.
Submit your flight request today or contact our specialists to learn more about membership options at 1-866-448-2358.