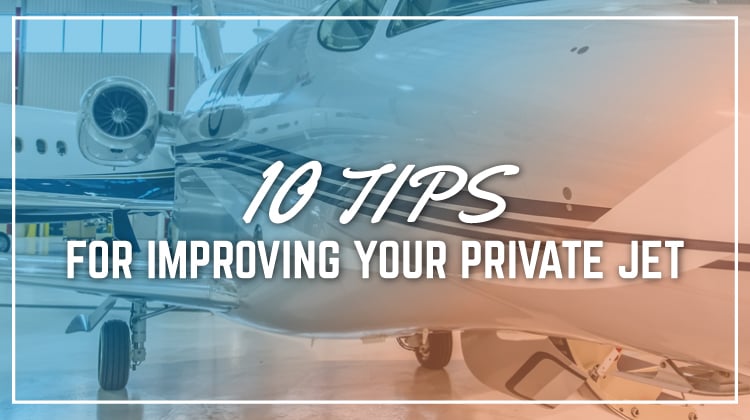 If you own a private jet, either for your charter business or for personal use, chances are you want it to be the best it can be. Not only is a private jet a great piece of machinery that embodies class, luxury and efficiency in air travel, but it is also a reflection of you and your brand. With the private jet charter business booming and celebrities and billionaires reinforcing the belief that owning a private jet is a mark of success, this is the time to make sure that your private jet reflects you in the best possible light. So, without further ado, here are 10 tips for improving your private jet:
1. Color: You may be shocked at the difference just changing a color can make. From white to blue or some combination of the two, changing the color of a private jet can completely revolutionize its appeal.
2. Design: The design of the jet can always be modified to carry a new feel and look. Consider what message you're trying to convey and then get designing.
3. Interior: Improving the interior can make your jet feel brand new. For example, if you are not satisfied with the furniture, get something that better suits your needs!
4. Personal taste: You can personalize your private jet by adding things you love. For example, a warm Jacuzzi or gold-plaited couches are sure to spark some envy.
5. Don't travel alone: Having your friends on board is a great way to make a good private jet much better. Friends can really spice things up.
6. Regular maintenance: If you don't want your jet to be set on a downward trend, you need to have it regularly maintained.
7. Insurance: If your jet has any issues that are covered by your insurance, you can make use of those premiums you've been paying.
8. Let art be a part: It's a good idea to incorporate some form of art into your private jet. Good art lends a certain class that can be hard to find elsewhere.
9. Revamp: This covers not only the jet itself, but also extends to those that work with the jet. If your staff and personnel aren't quite meeting your expectations, you should aim to hire people that better suit your needs.
10. Cuisine: Have some fun! Adding new exotic cuisines to your menu can be a quick and exciting improvement.